Vida Silvestre Foundation (a partner of WWF) introduces the Whales in the Bay Project, created to prevent whales and vessels from colliding in the Nueva Bay located in the Valdés peninsula.

By the end of 1999, Valdés Peninsulawas listed as World Heritage Site by UNESCO, the reason being that it is the protected area in Patagonia having the greatest biodiversity and emblematic species —there are whales, penguins, elephant seals, sea lions, maras(Patagonian hares), and guanacos. In addition, this is the second largest area in the planet for southern right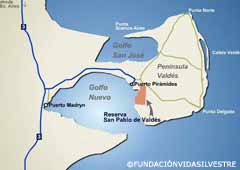 whale (Eubalaena australis) reproduction and breeding.
But these whales, which have a notorious "sociable" character, are attracted by non-natural elements such as ship hulls or pier piles and alter their geographical distribution.
At present, an increasing number of the 1400 specimens that visit the area stays longer in Nueva Bay just opposite Puerto Madryn.
The problem with this change of residence is that there is a great deal of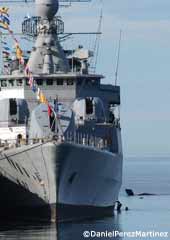 human activity in the ports and piers, posing the naturally curious whalesat risk in terms of collision with vessels.
"There's a continuous increase of not only whales but also commercial,private, and sports vessels in the area. The solution should promote the responsible development of nautical activities in order to minimize the risk of physical damage to the whales and material damage to the vessels," pointed out Alejandro Arias, Vida Silvestre Foundation's coordinator of the species module.
It is calculated that in the northern hemisphere around half of the North Atlantic right whales die after colliding with big vessels, and this is the risk the southern right whales in the Nueva Bay area are taking.
Vida Silvestre Foundation is forwardinga project known as Whales in the Bay, which will allow scientists to know where whales are moving and how they use the underwater space to prevent their deaths.
"Whales in Nueva Bay might be threatened by the same factor if no preventive measures are taken, such as the development of a risk map to avoid whale and vessel collision during navigation and the design of devices and strategies to minimize risk in piers," said Daniel Pérez Martínez, who is in charge of the project.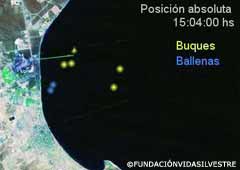 Whales in the Bay Project is supported by local scientists, Aluar (private company)and Chubut's Fauna Office within the Environment Ministry and Conservation Office within the Board of Tourism.
The research will be carried out usingnovelty methods, such as rangefinder binoculars, digital compasses integrated with GPS, and DTAG, all enabling to get the exact location of studied specimens. This will lead to availability of statistical data about the use of geographical space and prevention of conflictive scenarios.