A different way, more active, to see the whales in Puerto Madryn.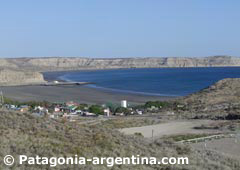 In this excursion, apart from the traditional whale watching activity aboard one of the licensed boats, we added an easy walk through the hills, dunes and cliffs area in the surroundings of Puerto Piramides, from where the whales can still be seen, this time from the shore, from a completely different perspective.
The navigations for the whale watching  set off from Puerto Pirámides.
This voyage will take you one or two miles into the sea, to approach the whales. The navigation also lets you watch many cormorant colonies, who build their nests against the cliff and there they breed and raise their babies. You can also see other specimens of the coastal bird fauna.
After disembarking, the proposal is a short stroll with little difficulty due to the dunes and the cliffs so as to see the whales and their environment from these natural viewpoints.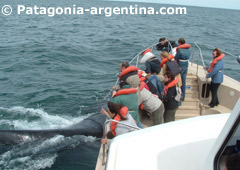 Afterwards, in order to make the return trip to Puerto Madryn shorter, there will be something delicious to eat in a buffet at the village waiting for you.
This is a half day excursion, with an approximate duration of 6 hours, suitable for all ages.