Those who are fond of hiking in the midst of nature and dreamed landscapes can not miss visiting the Torres del Paine National Park in southern Chile. It offers 227,298 hectares of dramatic, extreme beauty.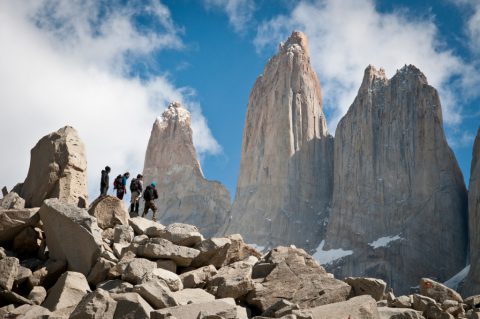 It is located exactly 154 kilometers northwest of Puerto Natales, 400 kilometers from Punta Arenas and 270 kilometers from El Calafate, Argentina.
It was founded as Lago Grey National Tourism Park on May 13, 1959. On April 30, 1970 the park adds 11,000 new hectares and is named as it is today: Torres del Paine National Park.
With beautiful turquoise lakes, large and imposing massifs, forests of varied vegetation, undulating rivers and a great variety of fauna -pumas, guanacos and ñandúes stand out- , in 2013 it was declared Eighth World Wonder by Unesco.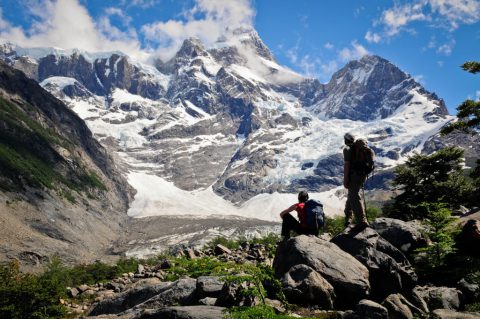 But do not think that visiting this park is a solitary adventure. It is visited by thousands of tourists from all over the planet and its peak season runs between November and April. If you prefer to avoid crowds, it is advisable to visit it during November or from March to mid-April.
There are different ways to get to know this Patagonian National Park. It can be a in a full day return excursion in minibuses departing from El Calafate, or staying at some of the excellent hotels that exist hidden in key points such as Las Torres Hill, Lake Serrano or Lake Grey, to name a few.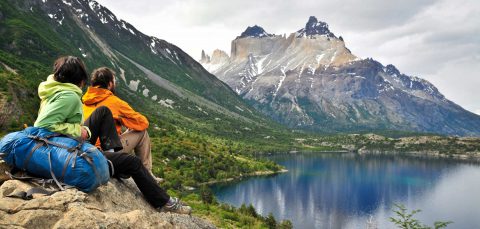 But without a doubt the activity par excellence is hiking along the different paths and trails enabled for that purpose.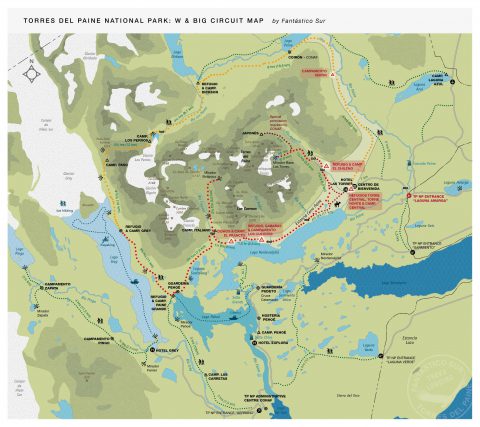 For those who want to know this paradise in depth there are two circuits: "Circuit O" which is the longest (135 km. long) and takes between 7 and 9 days to accomplish, and the "W Circuit", which can be completed in 4 to 6 days. This one gets its name because the shape resembles a W letter, and is the most popular. In total its route is 58 km. long and, depending on the preferences of each person, you can sleep in shelters with shared rooms or in a tent at each night.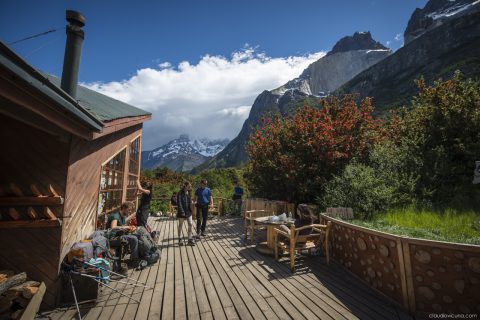 Weather is not stable; within a single day it is possible that it gets very cold, then it rains and finally you get full sunlight illuminating this paradise. That is why it is important to have thermal, waterproof and comfortable clothing. We do not recommend carrying large backpacks since it will be very tiring as you need to hike with all your belongings.
Everything begins and ends in Puerto Natales, the closest city.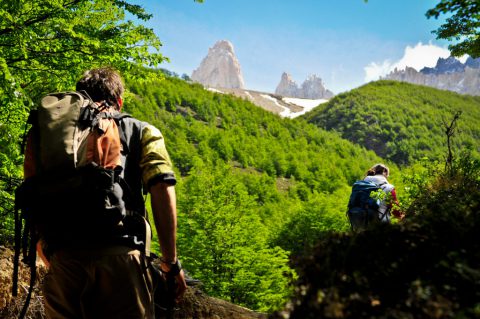 You need be in good physical condition since journeys are long: some of which require 8 hours of walking and even more.
Among the sites visited are the Laguna Amarga, the hanging glacier of Mount Almirante Nieto, and the "Mirador Base Torres" from where the imposing South Tower (2,850 masl), Central Tower (2,800 masl), Torre Norte (2,600 masl), Nido de Cóndor and Torre Glacier can all be seen.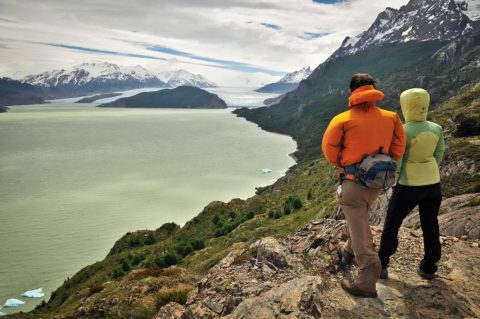 You will also reach the imposing Lake Nordenskjöld and the French River Valley until you reach the viewpoint of the French Glacier. Then the "British lookout point" offers one of the most striking scenarios in the entire National Park: the Tiburón Aleta, Catedral, Paine Grande, Hoja, Cuerno Norte, Sword and Mask hills can be seen from this viewpoint. The return is by the same path up to the "Italian Campsite" and then to the Pehoé sector and the Grey Glacier Viewpoint (sailing Lake Pehoé).
To take into account: if you want to do this circuit from El Calafate, you must spend two additional nights in Puerto Natales. Therefore, it is 5 nights / 6 days in total the minimum time needed to complete this tour in its shortest version. Further details are available in this link.