BARILOCHE

This is the city with the better tourist infrastructure within Patagonia, and trekking is one of the attractive alternatives it features. A number of marvelous mountains, in many cases with shelters where you can spend the night or simply recover your energy with a simple cold drink, are available.
Shelters:
San Martín or El Jacob: 1.650 m. above sea level. Left bank of Lake Jacob. Duration: 4 days.
Manfredo Segre or Italy: 1.650 m. above sea level. At the foot of Cerro Negro, next to Laguna Negra. Duration: 4-hour ascent.
López: 1.620 m. above sea level. Cerro López. Duration: 3-hour ascent.

Otto Meiling: 2.050 m. above sea level. Cerro Tronador, over Glaciers Castaño Overo and Alerce. Duration: from 5 to 7-hour ascent.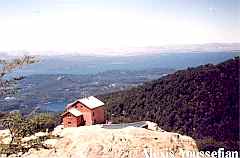 Juan Javier Neumeyer: 1.250 m.above sea level. Valle del Challhuaco. Duration: 1-hour ascent.

Lynch: 1.950 m. above sea level. Cerro Catedral, Punta Nevada

Emilio Frey: 1.700 m.above sea level. At the foot of Towers of Cerro Catedral, next to Tonchek Lagoon. It can be accessed by the Rubles chair lift and then a 2-hour walk or from the base through the trail, it takes 4 hours.
Berghof: Cerro Otto, Km.8
Crossings:
Trekking to the Blue Lagoon: 4-5 hour walk. Medium difficulty.
Refugio López- Laguna Negra: 5 to 8-hour walk. Mountain experience is advised.
Refugios Frey – San Martín: 8 hours. Only with experience or a guide.

Paso de Las Nubes: approximately 2 days. 35 km. of incredible beauty. A guide is advisable.
Información:
Club Andino Bariloche: 20 de Febrero 30 Tel. (02944) 422266
Club Andino Esloveno: 9 de Julio 710 Tel. (02944) 460042
EL BOLSÓN
This area of southern Río Negro offers many alternatives for trekking lovers. El Bolsón is famous for receiving a great number of young tourists, given the wide variety of alternatives of adventure tourism.
Cerro Piltriquitrón (2260 meters): the base of this hill is located at 11 km. from the urban center. Then there is a 3 km ascent to reach the shelter. It can be done entirely by car. The view is splendid, the valleys of the area can be seen and on clear days, the Osorno volcano in Chile.
Cerro Amigo: at only 2 km from the center.
Cajón del Azul: The Río Azul has to be edged round towards the mountain range. 10 km. at a narrow section of the river there is a beautiful shelter.
Hielo Azul: this crossing can be done by foot, on horseback or special vehicle. These are three intense days with the possibility of climbing frozen walls. A guide is advisable on this excursion.
Cerro Lindo y Lago Tricolor: hire a guide to reach the unbelievable Lago Tricolor. Duration: 2 days.
Cerro Perito Moreno: this is the ski center at El Bolsón. 20 Km. from the city. Take a walk to the shelter with a fine restaurant.
Cerro Tres Picos: It is the highest of the area: 2,942 m. Experts only.
Information:
Club Andino Piltriquitrón. Sarmiento and Roca Tel. (02944) 492600 – El Bolsón