The excursion to El Bolsón starts at Bariloche, driving southbound along route 258 (all paved). Duration: all day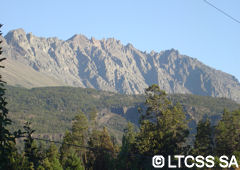 You follow the shores of lakes Gutiérrez, Mascardi and Guillelmo, and go through La Veranada and Pampa del Toro area. On the left you will observe the fascinating mountain range of Nirihua and Aspero.
After crossing the Foyel River and the bridge over Quemquemtreu River, you reach El Bolsón, where you can visit local attractions, like the wellknown craft fair.
From El Bolsón you can visit the El Hoyo and Epuyén villages, and do a number of outdoor activities.