Sometimes what we see is so breathtaking and our travel experiences are so overwhelming that it's not enough to remember them alone: we need to share  with the world. This is the view of a traveler, an adventurer, a woman in love with Santa Cruz.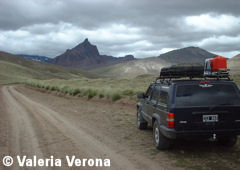 When we left Los Antiguos, we took a quite unknown but magical route: no. 41, from Los Antiguos to Lago Posadas. The road along the mountain range was gorgeous: ñires forests, ponds surrounded by small orchards, stunning mountains and hills in thousands of colors.The highest peaks were covered in perpetual snow, like Mount Zeballos, one of the highest in the province. We also came across rivers and streams, a desert steppe, sheep and, above all, loneliness and a rough landscape.
We were so delighted that one day we decided to camp by the side of Lincoln river. As few people pass along this route and there are no campsites, we were completely alone. So we put up our tent where we wanted, among the trees, in complete freedom, and we lit a fire (it was rather cold and there was no light…God save the fire!!), we cooked a little something and we stayed up late in utter silence, no trace of civilization but us, listening to the fire crackling and staring at the sky where unconquered stars sparkled. We loved it. We were a little cold in the tent that night, but it was worth it.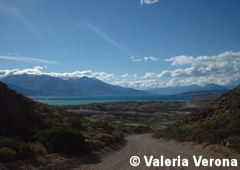 Then we got to the Lakes Posadas and Pueyrredón, one next t
o the other but separated by a peninsula. It is spectacular to reach this place from above and see two masses of water (one turquoise and the other deep blue) bound together and yet separated by a "tiny strip" of land.
We stayed two nights there lodged in a pretty isolated estancia – Yrigoyen, the closest town, was an hour's drive away down a gravel road and there were only three stores and some 300 inhabitants. The estancia is called Suyai and it' s specially prepared to receive tourists.
We stayed at the campsite. There we had at least a nice bathroom… We were also almost alone: only a family accompanied us, they had four children and a really adventurous spirit. One day we decided to pamper ourselves and roasted a piece of lamb we got in the estancia, and had it with warm delicious homemade bread. The weather was the only drawback: we had just gotten there and finished putting up the tent when it started pouring down. The next day, though cloudless, an unbelievable strong wind started to blow…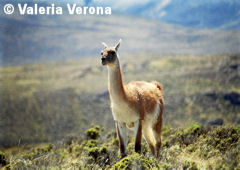 From there, we went on down to the area of my precious Parque Nacional Perito Moreno (beware: it's not that of the glacier…). It's a relatively unvisited park because it's 90 km (56 mi) from route 40, the main road, and far from all the hot tourist spots. That's why I like it so much! The lakes are worth seeing. The Burmeister, for example, is greenish, crystal clear and surrounded by mountains and ñires. Lake Belgrano is more desert-like and is opaque turquoise. I had never seen such a color before… don't think of the turquoise of the sea, it's nothing like that…it is the most turquoise and most opaque color you can ever imagine and it's surrounded by a steppe where guanaco herds graze lazily around. So beautiful… The bad thing? Horseflies. There was no wind blowing that day and we were at their mercy!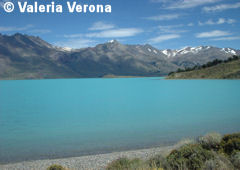 To rest a little from the camping, we stayed at a kind of backpackers' hostel at the estancia Menelik, which was 15 km (9 mi) from the park and was not expensive because it offered shared beds and bathrooms. There we could again taste Patagonian lamb and… (don't panic)… horse! Everything was roasted on a spit and we didn't pay anything! One of the advantages of socializing with the manager of the estancia and chatting a lot with him…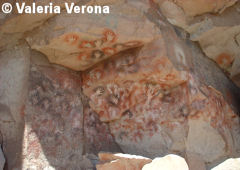 From there, we went up to visit Río Pinturas and Hands cave paintings. A guide we made friends with after meeting in several places recommended a "second-rate" cheap estancia to spend the night, if we didn't feel like camping. That's what we did: we went to Don Héctor Sabella's estancia, Casa de Piedra, and we lodged in the only room with a double bed. It was rather neglected but acceptable. The hosts were excellent; we spoke about a little bit of everything- politics and economy, for example, and they took us to see shearing corrals and sheds. Thank you, Héctor!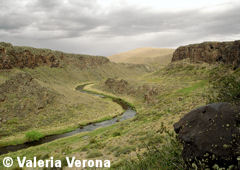 Then we started going "upwards" to  North Patagonia. We passed to visit some friends, where luckily we could spend two days lazing around at the "beach"…because, in Santa Cruz… you don't find any! I say "beach" because, in fact, it was a small lake… We stayed at a house the family owns in Lago Pellegrini, an artificial lake that was produced by a dam, and which looks more like a lagoon than a lake. We really enjoyed it!
It was an amazing trip. I love south Patagonia, desert Patagonia, the one with the steppe landscape, sheep, large estancias, cold, loneliness, dearth, pioneers. We met really interesting people, real fighters, dreamers and lonesome but, above all, extremely kind and proud of being santacruceños.
I'm coming back home with my heart filled with joy.
We'd like to thank Valeria Verona.