This town, located 50 km north of the provincial capital, on the left bank of the Neuquén River, has undergone an impressive growth in recent years, thanks to the development of the wine industry and, in general, the fruit and vegetable activity. It has become a  must stop on the Wine Route in the province of Neuquén.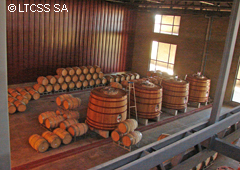 The first settlers were Italians. They worshiped San Patricio, the patron of the town of Campo Filone, where they came from, and for that reason they named San Patricio the town as soon as they settled in 1898. "Chañar", on the other hand, comes from the Quechua term "chical", a thorny tree of wood that grows in the area.
In Chañar, several wineries have been established that have generated a wine and gastronomic circuit for lovers of the Patagonian fruit flavors. Thanks to the application of cutting-edge techniques in the wine production process, they have covered thousands of hectares of vines of different varietals such as Chardonnay, Malbec, Merlot, Cabernet Sauvignon, Pinot Noir, Cabernet Franc and Sauvignon Blanc. The high quality of its products, sold to the domestic and international markets, is because of  the climatic and geological characteristics of the region. The sandy and stony soils, the great thermal amplitude and the dry climate with constant moderate winds provide the right conditions for the development of crops and an adequate level of acidity.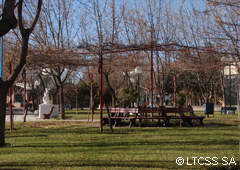 The wineries offer guided tours, tastings, direct sale of their products, and some, the option of ordering exquisite dishes in their gourmet restaurants.
Every year in February, San Patricio del Chañar celebrates the provincial fiesta of Pelón. The production of this stone fruit is very important in the fields of the town, like that of the apple and the pear. During the party, sports competitions, folkloric shows, the designation of the Provincial Queen of Pelón and the presentation of regional artists take place.
If you take the route to Los Barreales, you can visit the paleontological museum, in which it is possible to observe the excavations that are made to extract fossils of dinosaurs. There, the Lake Barreales Paleontological Center (dependent on the National University of Cuyo) operates, a center for research and training of future paleontologists.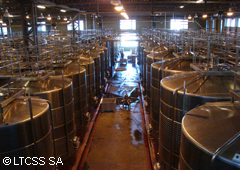 On the way to the museum, you can see from the route the Lake "Mari Menucó". In summer, this lake is ideal for water sports or sunbathing.
To get to El Chañar from Neuquén, it is necessary to take the motorway to Centenario. Then you have to continue towards Vista Alegre, cross the Engineer Ballester Dike (over the Neuquén River) to the neighboring province of Río Negro, and continue north to Villa El Manzano. To get to El Chañar, you must continue 5 km and cross again to the province of Neuquén. There will be signs announcing your arrival to the Route of the Wine, Apples and Dinosaurs.