It is a town with strong demographic growth, located 100 km north of the provincial capital, on the left bank of the Neuquén River.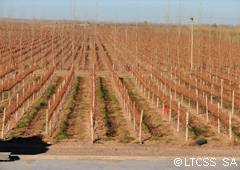 There are no certainties about the origin of the name, but there are two rather obscure versions of its meaning according to historians: "dune of the threat" and, on the other hand, "place of the dead".
At Añelo was located one of the forts that formed the line of defense against indigenous malones in military operations known as the "Conquest of the Desert", led by Julio A. Roca between 1879 and 1883. Its official foundation dates back to October of 1915.
The economy of Añelo is based fundamentally on agricultural and oil production. Very close to the town is the Cerros Colorados Hydroelectric Complex, from which a part of the electric power that reaches the center of Argentina, including Buenos Aires, is produced. Wineries and production units for fruit and vegetable products are also being installed. Likewise, it is starting to exploit the forestal resources of the area.
In Auca Mahuida, a few km. to the north of Añelo, is the Museum of the Site, built on the remains of a pre-Columbian Mapuche cemetery discovered by operators of the YPF oil company years ago. There the archaeological remains are preserved in the conditions in which they were found. The objects are displayed without showcases, in the original positions. To the south-west of Añelo, towards San Patricio del Chañar, is the Barreales Lake paleontological museum, where dinosaur excavations can be observed.
15 km. from the town of Añelo, taking the national route Nº7 is Los Monigotes, a set of geological formations between 20 and 30 meters whose name derives from the shape of the rock pillars that compose it.
Another attraction of the area are two dinosaur sculptures made by the great artist Carlos Regazzoni. The replicas of pretosaurs are made with industrial waste from the oil industry. Regazzoni is not only recognized for its original art, but also for the unique habit of living and working in an abandoned train station between old train tracks a few meters from the Retiro station in Buenos Aires.
To get to Añelo from San Patricio del Chañar you have to take Provincial Route No. 7 and if coming from Cutral Co you should take Provincial Route No. 17.