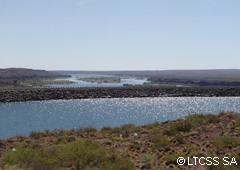 By Route 22 to the west 15 km. is located Plottier town, an area of ​​farms dedicated to fruit growing, especially apples and pears. In the zone you can visit packing sheds and establishments dedicated to the production of juices, ciders and wines. In addition there are other major industries such as poultry, crystals, sweets, chocolates and edible fungi.
This city is characterized for conserving its old constructions. So you can see a bit of history in the buildings where today the House of Culture, the City Museum, the Municipal Library and the House of Dr. Plottier are.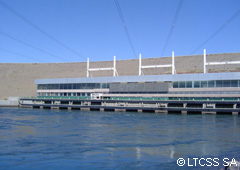 If you are looking for nature, on the banks of the Limay River there are two recreational complexes with enough services for an excellent day outdoors.
Continue on Route 22 and 50 km. you will find the junction with Route 237 to get there, 25 km. further on, to the Lower Valley of the Limay River. Here is the Villa El Chocón. This is a monumental engineering work and one of the most important in the country.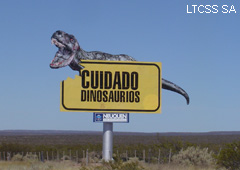 It has a dam of 92 meters. of height, 400 mts. wide at the base and 2,200 meters. of length. The reservoir occupies an area of ​​816 km2. You can enjoy this particular site practicing water sports, fishing, or simply resting.
This area is very rich in fossils. Many of the layers that emerge exceed 100 million years. The paleontological findings place this region in one of the most appreciated spots in South America for scientists and the curious on the subject.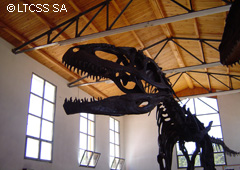 The most important dinosaur found in the area is the Giganotosaurus, found in July 1993. It is the largest carnivorous dinosaur in the world. Its complete skeleton can be seen in the Municipal Museum where Rubén Carolini, the same explorer who found him, acts as a guide.
Patagonia is, among many things, living prehistory.