Orca Project is a program of observation and study of killer whales (Orcas) behaviour in their natural state. It was begun in Puerto Madryn, Patagonia Argentina, in 1975. Among other activities, this project has identified, named and coded each Orca that it has observed in Punta Norte,Valdes Peninsula.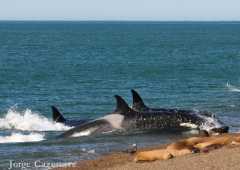 The killer whales belong to the order of the cetaceans, and inside this category, to the family of the toothed whales along with the dolphins. These mammals are the biggest ones among the dolphins. They are usually known as Killer Whales due to their hunting method they use in order to feed from elephant seals in the water and in their colonies.
Their method consist in swimming very quickly towards the beach and intentionally beaching two thirds of their body on the shore thus capturing their prey in their mouth and then moving back into the water with energetic dorsal movements taking the elephant seal alive in order to share their hunt with the other members of their group.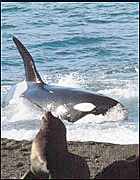 It is known that hundreds of killer whales die each year during this hunting act, as they expose themselves to dehydration if they are unable to move back into the water after making a kill. Specialized emergency help units must be used to rescue these animals quickly. The Killer whales studied in the area of Puerto Madryn and the beaching method used to hunt and feed comprise an spectacular behaviour which attracts every year more and more documentary filming crews with the intention of registering and showing it to the world. This method can be observed in the Crozet Islands and in the Indian Ocean and Antarctica as well.
The Orca Project began by studying and observing the behaviour of orcas in the wild, the basing their work on the photo-identification of the individual whales. Later, the project became the ORCA FOUNDATION OF PATAGONIA-ANTARCTICA, whose motto is: To develop the knowledge of the wild Orcas of Patagonia and Antarctica and to spread awareness that will prevent the capturing or slaughter of Orcas.
The objective of the Foundation is to investigate the regions where orcas can be observed and the surrounding areas in order to promote the preservation of the orcas´ natural habitat.
The main activities of the foundation are:
– To take photographs and video of the wildlife that lives on the beaches.
– Take censuses of each species of local wildlife.
– To study and distribute information regarding the environmental problems that exist and could develop in the future. To propose the study and development of actions that will best improve each individual situation.
(Information taken from www.fundorca.org.ar)