Did you know there is a sea resort in Patagonia, on the Atlantic Ocean which has got the warmest waters in Argentina? Come and discover Las Grutas with us. Know how to get there and its attractions.
Las Grutas is a beach resort located in the Atlantic coast of the province of Río Negro, only 15 Km. from San Antonio Oeste, district it belongs to. Its history is a short one but full of present.
It is said that the first house in Las Grutas was built in 1939 by people from San Antonio Oeste. But only in 1964, after the allotment of the land, this beach village started to spread widely. In the 80's it got a great backing from the investments coming from people from different cities of the region and then the official support with the arrival of the essential services such as water supply, electricity, etc.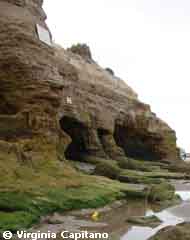 The name comes from the caves undermined by the sea in the cliff.
Its beauty resides in a beach sheltered by the cliff, and mainly the warmth of its waters, which can reach 25 degrees Celsius in some areas.
No doubt it's the hottest beach village on the Patagonian coast. Its growth in the last years has been huge. It already looks like a small city. With an infrastructure installed according to its visitors, Las Grutas is a paradise for those who love long days of beach and sun.
Its main attractive consists of its magnificent beaches, white sand and deep blue, transparent waters, which are the warmest in Argentina.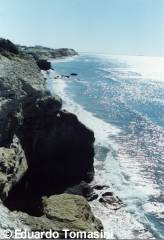 Being in the very heart of San Matías Gulf, and having medium sized cliffs, this place has little or no wind at all, something incredible for Patagonia. The width of the tides, the system of circulation of the coast currents, the high temperatures in summer and the scarce rains are contributing factors to this phenomenon.
Distances in Km
Buenos Aires: 1130
Bahía Blanca: 455
Rosario: 1300
Córdoba: 1200
Mendoza: 1330
Bariloche: 957
Viedma: 180
Río Gallegos: 1480
How to get there?
By Car:
From Buenos Aires you have two options: Ruta 3 directly to San Antonio Oeste, passing by Bahía Blanca and Viedma. Or, you can go by Ruta 3 up to Azul,
Ruta 76 then Ruta 51, up to Bahía Blanca and again Ruta 3 passing by Viedma.
Buses:
Some of the companies that go to San Antonio Oeste and Las Grutas are:
T.A.C.: In Buenos Aires 11-4313-3632. In San Antonio Oeste 02934-421674
El Pingüino: In Buenos Aires 11-4315-4438. In San Antonio Oeste 02934-421580
Don Otto: 0800-333-7575// 4315-7700. In Las Grutas: 02934-497778// 430-007
El Cóndor: In Buenos Aires 11-4313-1700. In San Antonio Oeste 02934-421580
Las Grutas S.A: In San Antonio Oeste: 42-2573-lasgrutas@canaldig.com.ar
El Valle: In Buenos Aires: 4313-3749. In Las Grutas: 02934-497778
Andesmar: In Las Grutas:02920-497527- turismo@andesmar.com.ar
San Antonio Oeste's Bus Station: 02934-421580
Las Grutas' Bus Station: 02934-497190
We strongly recommend to contact them to have up-to-date information about
fees, services and promotions.
Lodging
Las Grutas is an important tourist center and it has a wide assortment of hotels, ranging from 1 to 3 stars. There are also excellent Apart Hotels, some of them with the time share system. It is very common renting houses or flats per day, week, fortnight or monthly.
Campsites are very well equipped and many of them are located at the very heart of Las Grutas.
Eating out:
Las Grutas itself is not very big and everything is at reach around a few blocks from where you will be staying, you can walk around and see the different food offerings. Notice that the specialties are fish and seafood, mainly "pulpitos" (small octopuses).
What to see around Las Grutas?