To visit the Iguassu Falls you must get to Puerto Iguazú. This town is very well connected with the main cities in Argentina.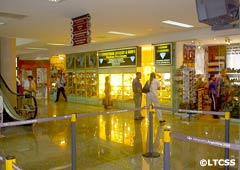 The Iguazú International Airport receives flights from the main cities of Argentina, with frequent daily flights from Buenos Aires, the capital of the country.
By bus, the most important companies that connect Buenos Aires to Iguazú and other cities are: Crucero del Norte, Expreso Singer S. A. Expreso Tigre Iguazú and Via Bariloche.
By car, it can be reached via Posadas, the provincial capital, by National Route 12. This same route, which borders the Paraná River , connects to Route 9, which is an access route to Buenos Aires. Another option, for those who are coming from Buenos Aires is to take National Route 14, which borders the Uruguay River, and later meets up with Route 12 via Provincial Route 40.
Distances from Puerto Iguazú, in kilometers:
Corrientes: 609
Resistencia: 632
Formosa: 893
Santa Fe: 1160
Paraná: 1191
Capital Federal: 1610
Córdoba: 1511
Mendoza: 2139
Santiago del Estero: 1235
Tucumán: 1401
Salta: 1242
Jujuy: 1274
Catamarca: 1635
La Rioja: 1789
Santa Rosa: 2123
Neuquén: 2668
.