Night of whales at El Doradillo
A different way to see the Patagonia nature. A musical show, in the open and with exclusive artists in the world: the Southern Whales.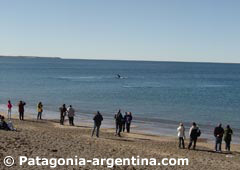 It is an ideal excursion to take after an early dinner. We leave Puerto Madryn for a nearby beach where you can enjoy a sky full of stars and an atmosphere full of magic and strange sounds: the famous "songs" of the whales.
A unique and exotic experience that will make you tune in with the universe, just as the ancient inhabitants of this land used to do.
And, what's better to resist the cold of Patagonia nights than a glass of a typical drink of the region?
4 days, 3 hotel nights with breakfast. Taxes. Transfers in/out airport-hotel-airport at Puerto Madryn. Excursion to Península de Valdés. Excursion Punta Tombo (penguins colony)
Transfers in/out. 4 days, 3 nights with breakfast. Excursion Perito Moreno Glacier. Nautical Safari. Excursion Estancia Cristina Classic (summer) or Rivers of Ice (winter). Bilingual (Spanish-English) guides. Taxes.
4 hotel nights with breakfast. Transfers in/out airport-hotel-airport at Bariloche. Excursion Small Circuit. Excursion to Victoria Island and Arrayanes' Wood. Excursion to S.M. Andes via the Seven Lakes.