The Journey to the Clouds is one of the most impressive outings of the Argentine Northwest. A full day of adventure, nature, history and scenery along the route of the legendary Train to the Clouds.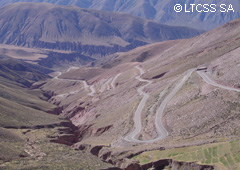 It covers the route parallel to "Tren de las Nubes" (train to the clouds), along roads that zigzag among hills, plains and the sky.
It leaves Salta at 7 am towards Campo Quijano and Quebrada del Toro. In the pre-Inca city Santa Rosa del Tastil, it stops for a short archeological trekking, the guide giving an account of how life developed in these lands before the Spanish conquest.
The trip goes on towards San Antonio de los Cobres, a mining settlement where the "Tren de la Nubes" ends. You will be given time for lunch in this town.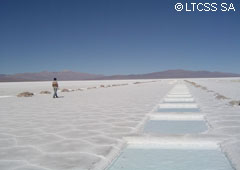 In the afternoon, the excursion aims at Purmamarca; however, before arriving at this colorful small town, it will go through the impressive Salinas Grandes (large salt-mines), an enormous white desert that shines under the Puna sun that constitutes an authentic surrealist scene. Not only will you observe the autochthonous fauna of the place, but also a resto-bar under construction. Both its walls and furniture will be exclusively made of salt, and it will be only fed by solar energy.
Afterwards, you will climb the twisty Cuesta del Lipán, to finally reach Purmamarca.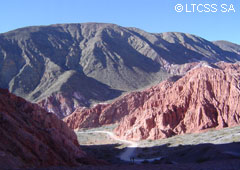 Cerro de los Siete Colores (seven-color hill), copyright of this picturesque town and the whole Puna, will be awaiting here. Make sure you will have enough film or memory provisions as to capture all the images of what you will see all along.
Already on the way back, you will visit San Salvador de Jujuy city.