Salta has a vast variety of climates, due to its location, the great difference in height existing among the province's extension and the tropical latitude in which it is located.
Within this variety, the city of Salta, placed in one of the warm valleys, has an annual average temperature of 16.9ºC and a annual rain average of 700 mm, distributed mainly in the summer season.
This data denies the traditional belief regarding the summer heat in Salta. The highest temperature for the month of January is of 34.6ºC and the average for the same month is 21ºC. Throughout the year, the temperature rises over 32ºC only 14 days, whereas in Buenos Aires the same happens 21 days during the year.
The extreme heat which the climate of this region is usually linked with is because of that registered in the area of 'El Chaco Salteño', on the eastern side of the province, where temperatures can easily reach 45ºC in summer.
The Seasons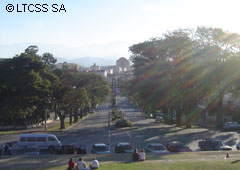 The high season arrives in this area during the austral winter: July and August. But already from Easter and up to October it is possible to enjoy all the attractions offered by this region.
During summer, it's the time for the rains corresponding to the tropical weather so low season takes place from November to March. Nevertheless making the trip is quite possible, taking under consideration this data.