Each winter at Ushuaia, the southernmost city in the world, a snow sculptures contest takes place. This is a form of art that has got many fans around the world, particularly in Canada, United States and Europe.

Also called "ephemeral art" this modality is based on the premise that the materials involved must come from Nature, and must also go back to it without affecting -even slightly- the environment.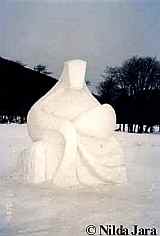 This event is organized by the Tierra del Fuego based "Asociación para el Arte Formas de Fuego", and generally takes place at one of the tourist complexes in the surroundings of the city of Ushuaia. The chosen place always becomes populated by huge statues made out of just snow and ice.
This contest is part of Tierra del Fuego's tourist calendar and, along with the astonishing surrounding natural landscapes featured, is considered a must by visitors during the time it takes place.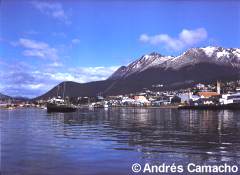 And this last detail, the majestic "frame" where these colossal figures stand, is probably one of its greatest appeals and the one which marks a huge difference between this contest and many similar ones that take place anywhere else in the world: the Ushuaia Bay, its surrounding hills and mountains, the invisible (but really close) presence of Antarctica as well as the deep feeling produced by the fact that one is at the very heart of the "end of the World", constitute an unique and exclusive patrimony of Argentine Patagonia.