Rada Tilly is the southernmost beach resort of the American continent.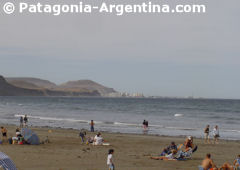 This small village, which was born as a beach resort, is currently inhabited by 4000 people approximately, most of them are youngsters. It is located 12 km. away, to the south, from Comodoro Rivadavia, thus its inhabitants can enjoy a peaceful life being quite close to the big city.
The beaches are extensive and in their ends the cliffs go into the sea giving shape to a wonderful cove. The cliff's ends comprise two wonderful natural viewpoints, the  Punta Piedras to the north and the Punta del Marqués to the south.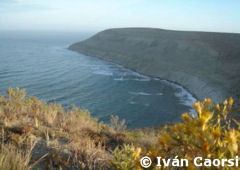 This viewpoints system, that is 160 m.a.s.l, offers the possibility of contemplating a unique landscape: the immensity of the ocean in one side and the endless plateau of Patagonia to the west; the cliffs' edge with its colours mark the geologic diversity of its formations and an elephant seal's colony a few metres away from Punta del Marqués.
The regional museum, inside the village, allows to see entire fossil's collections which belonged to the inhabitants and were lent for exhibition.
It can be visited and the entrance is free of charge.