In the southeast angle of Chubut's province, over the windy shore of the San Jorge Gulf, Comodoro Rivadavia finds its location. It is the most important city in the region.
As a modern city, it is enough to tour around its streets and the main Costanera avenue in order to perceive its feverish pulse generated by the petrol activity and its surrounding industries. It comprises the entrance gate to an interesting tourist corridor integrated with Rada Tilly, the traditional beach of Comodoro, Caleta Olivia and the most distant one known as Puerto Deseado. Here, the route 3, the vertebral axis of the region, runs quite close to the shore and has beautiful views of the ocean, the beaches and the extensive plateau of Patagonia towards the west.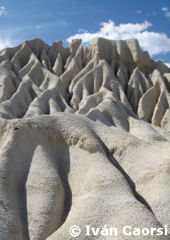 Comodoro Rivadavia is the most important urban and services centre in the area. Since 1907, when petrol was found in this part of the San Jorge Gulf, it hasn't stopped growing until reaching its current population of almost 150,000 inhabitants. It owns a strategic privilege as well: it is only 600 km. away from the Pacific Ocean, which gives shape to an important extreme of the corridor between both oceans in Argentina and Chile.
Comodoro is an extensive city, the central area lays by the foot of the Chenque Hill,  whose height is approximately 200 mts. From up there, there is a panoramic view of the settlements located in deep depressions that serve as shelter from the winds, the ocean bathing the shores and as a visual limit, to the north, the Salamanca's summit.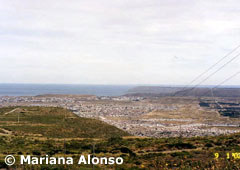 The unevenness of the shores and the splendid views of the ocean will attract your attention since its beaches combine sand along with boulders protected all by 60 mts. of high cliffs over the bays and coves. During summer, the beaches become enjoyable because the characteristic winds of the region are fewer and warmer. Apart from the beach in downtown next to Costanera Avenue, there are other good options such as the one in the km. 3 and the beach in the km. 5 which is the favourite one among the villagers.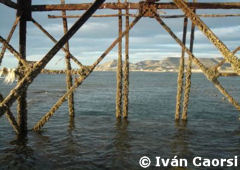 Also in summer, if you're a fishing buff, you'll find beautiful places to develop this activity. The city adds to the petrol industry the profit of the wool and fishing activities; it is the centre for high quality prawn and spider crab catching.
Touring around the region, you'll be able to appreciate the characteristic nodding donkeys that pump petrol as well as the wind turbines used as a non-conventional way of obtaining and generating energy.
Comorodo Rivadavia has its own international airport, good routes and excellent hotel and gastronomy infrastructure that will grant you an unbeatable time in the city.
What to see around here?