The basin of the San Jorge Gulf has become a surge of financial opportunities.  Oil has become the Holy Grail of operator companies and the crowds of contractors ready to make a fortune with oil wells.  In addition, a wide range of services has been greatly improved by the exploitation of hydrocarbons in Comodoro Rivadavia.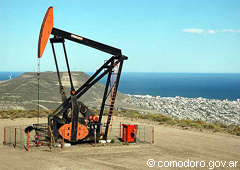 As a side effect from this prosperity spread over every layer of Comodoro's society, a significant difference in the market of prices and wages can be observed in relation to the national context. Just as an example, a factory worker earns as much as a bank manager in Córdoba or Rosario.
Even though these differential incomes are weakened by higher prices, the quality of life is clearly much better than in other urban centers of the country.  This is evidenced not only by consumption, but also by the evolution of urban morphology. The expansion of the city did not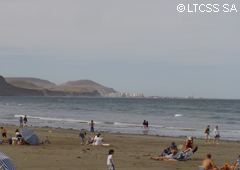 result in the settlement of shanty towns around peripheral areas, as is usually the case.
Despite the economic bonanza, it is worth to note that Comodoro Rivadavia has not become established as a glamorous city. It offers all that is necessary in terms of services and infrastructure for local people, but it does not have an ambitious architecture or a tourist proposal of great commercial activity. Even though it is located overlooking the Atlantic Ocean, weather conditions, with strong winds and frequent rainfalls, are discouraging at the time of attracting tourists. Obviously, Comodoro's strongest point is the oil activity and its derivative industries, such as the metallurgical industry.
In 1907, six years after the official foundation of the city, a drilling team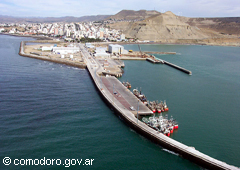 sent by the Dirección de Minas, Geología e Hidrología de la Nación (Federal Department of Mines, Geology and Hydrology), whose objective consisted in finding natural water sources to supply the population, found oil reserves 540 meters (1800 ft) under the ground.  This is how the prosperous oilfield exploitation fortuitously began, giving the city the title of "National Oil Capital".