Puente del Inca is a natural rock formation passing over River Las Cuevas in the Andes, about 180 km from Mendoza.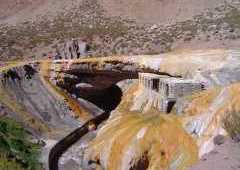 This bridge is not a construction of the Incas as it is often misunderstood, but a natural formation that was used by the huarpes, Inca and other peoples before the arrival of the conquerors as an obligatory passage to reach the Pacific Ocean.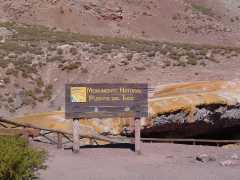 Puente del Inca is now within a protected area. It is 48m long, 28m wide and 8m high. At the bottom there are stalactites and, in winter, ice needles. The minerals in the waters that run beneath cause the reddish oranges seen in the formation and give it concrete-like consistency.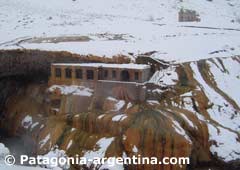 The place was already known before the Spanish arrived due to its hot springs waters, rich in salts, peroxide of iron and algae. These waters are said to have curative properties for stress, nervous disorders and rheumatism.
The properties of this water also make objects left submerged in it for 40 days absorbe the minerals, leaving them covered by a ferruginous layer, as if petrified.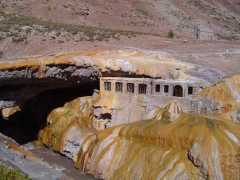 In the 1920's a luxury spa hotel was built there and the most prominent personalities of that time went because of the healing properties of the water. The building was destroyed by a landslide in 1965, and today only the ruins of the chapel can be seen below the bridge and to its right.