Mendoza is one of the most beautiful and looked after cities in Argentina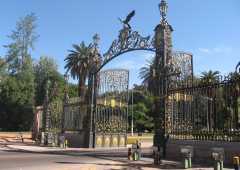 It is the tourist capital of the region of Cuyo and is a destination to visit all year round. Mountains, wine, scenery and cultural life make Mendoza an unforgettable destination.
Long ago, the moor of Mendoza was touched by the waters of the drains descending from the valleys and got transformed into an extremely fertile area.
By entering through National Route 7, and when coming out onto Zapata Avenue, you will notice the abundant foliage characterizing its streets as a welcome.
Mendoza video by Exagrama.
The city of Mendoza, capital of the province, is a striking oasis with its immense beauty and its landscapes trimmed by mountains, hills and the plateau.
It functions as an administrative, commercial and cultural center of this province; it also develops a big industry dedicated to the grape growing and wine production.
This city offers a wide range of different activities adaptable to the most eclectic tastes, starting by practicing rafting or kayak, climbing, exploring caverns, without leaving behind catching sight of wild flora and fauna during the best months of summer.