This lake which has been declared a Natural Tourist Reservation is at the foot of Cónico Hill, 1100 m. above sea level, surrounded by extraordinary woods of tall lengas and impressive mountains.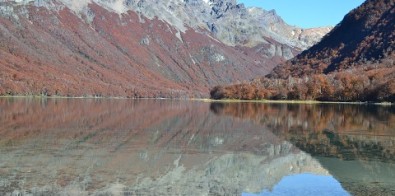 Only a few Km. before arriving at Los Cipreses, a town close to the border with Chile, the mountain road that takes you to the hidden Lake Baggilt starts. It is 18 Km. long and a bit complicated but Cónico hill is the natural limit between Argentina and Chile and gives its name to the Glacier that feeds the lake with its waters.
Access to the base of this Glacier is possible if you walk through a canyon which will enable you to enjoy and watch truly unexplored places.
Because of the altitude Lake Baggilt is located at, the fauna and flora are quite different from the rest of the lakes at Trevelin and Los Alerces National Park.