This bridge offers a perfect solution for crossing the Andes and go up to the Pacific Ocean bordering the Futaleufu River.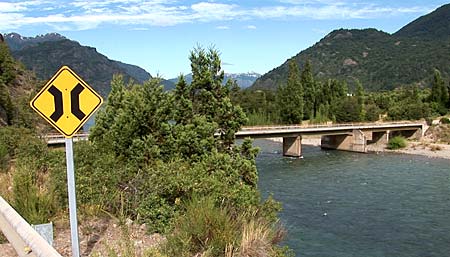 Departing from Trevelin you must drive 38 km. up to the frontier with Chile. This route is accessible without the need for a special vehicle, all year long. However, special attention must be paid during winter since the road is not at its best conditions.
This excursion can be a perfect combination for the visit to the Nant and Fall Falls. You need to stick to route 259 along the lower part of 16 de Octubre Valley. The road borders River Futaleufu for 14 Km. where unmatchable views will amaze the tourist until it leads to the international pass. Here, you will cross a concrete bridge that takes you into Chile. Starting at the frontier it is possible to follow the Austral road, bordering the river's valley or maybe visit the Futaleufu villa (800 inhabitants) before returning to Trevelin.