The Tren Ecológico de la Selva (Rainforest Ecological Train) is one of the latest acquisitions of Iguazú National Park It makes visits to the Waterfalls more dynamic and protects the environment through a transport system of low impact on nature.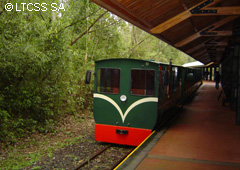 The picturesque gas train, launched in 1907 in England, runs at speeds of no more than 20 kilometers per hour (12 mph) and stops when animals cross the
railway lines (700 animals had been run over by vehicles, whose access to the Waterfalls area is now restricted). The train carries between 120 and 150 passengers and has a special wagon for handicapped people.
In less than 25 minutes and along 7 km (4 mi), the train connects the Central Station, providing a wide variety of services and places to dine, with the footbridges of the Garganta del Diablo(Devil's Throat), skirting the Iguazú river through the superb landscape of Misiones' subtropical rainforest.  The Waterfalls Station is found halfway through the path. From this point, the pathways lead to the Lower and Upper Circuits, and the Green Path. In this area, there are some fast food restaurants, restrooms, and lounge area.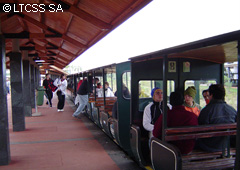 Passing by the entry to the Waterfalls area on the Argentine side, you will find the Ivyrá Retá Interpretation Center ofIguazú National Park, which includes didactic panels and billboards about the fauna and flora of Misiones rainforest.It also provides information on the region's old inhabitants, whose cultural heritage is of paramount importance: the native Guaraní and the Jesuits. Nearby the Center there is an amphitheatre, a gift shop, commercial stores, a theme bookshop, a phone center, a photo developing center, a pizzeria, an ice cream shop, and several world-class restaurants.
The Ecological Train, together with a refurbished footbridge system, offers much more comfortable conditions for the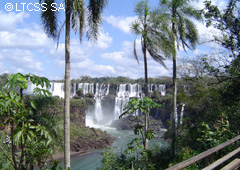 contemplation of the wonderful landscape of the rainforest of Misiones, in line with the growing international demand for this tourist destination. Footbridges, with ramps and facilities for handicapped people, allow for a better movement around and view of the Waterfalls, complying with the most stringent security standards.