In the middle of Neuquen Andes, Caviahue and Copahue, 20 km away one from each other, constitute a single tourist destination. They offer thermal baths, snow and volcanoes in a beautiful yet strange mountain scenery.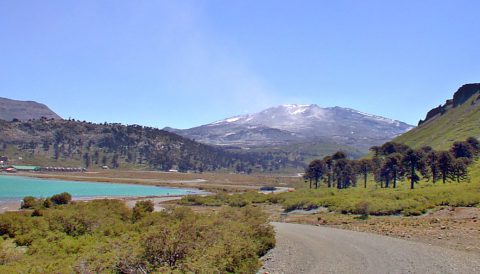 Caviahue and Copahue are inside the Provincial Park Copahue, a protected area that holds within the same name  volcano, the lake Caviahue, with turquoise waters, the Agrio river with a spectacular jump, and several dormant volcanoes retaining their boilers and mouths as an attractive and amazing curiosity.
Each village has one touristic characteristic but they complement conforming an year round tourist offer. Both centres support themselves economically on natural resources. In winter Caviahue offers the purest Andes snow and in summer Copahue, thermal waters.
Caviahue
Caviahue means "party or meeting place". It is said that many years ago, when people travelled to Copahue in carts, they relaxed in the lands of Caviahue. There not only tourists, militaries and natives met but also mapuches in transhumance.
Caviahue town is located 1600 m.a.s.l. by Caviahue lake and it has a permanent population throughout the year. Nowadays this village is part of "the Pehuen Route" because of the existence of Araucaria Araucana (pehuen) tree in the area.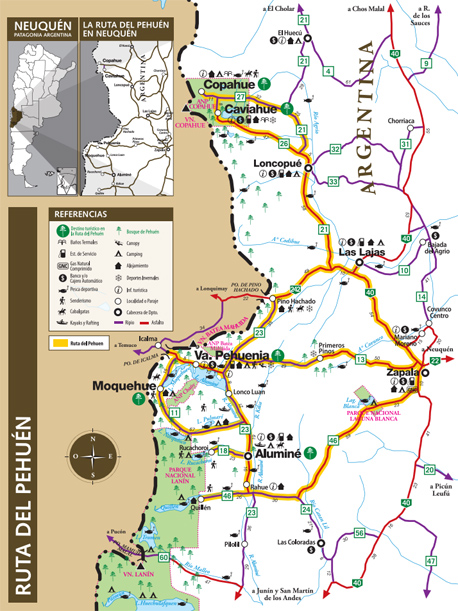 Caviahue is surrounded by hills, pehuenes, waterfalls and the imposing view of the Copahue volcano.
Caviahue is a modern tourist center and it is included within the Copahue-Caviahue hot springs complex. You can practice winter sports such as alpine ski, cross country ski, rackets and sledges during Winter. The east side of the Copahue volcano has good ski tracks for beginners, intermediate and advanced skiers.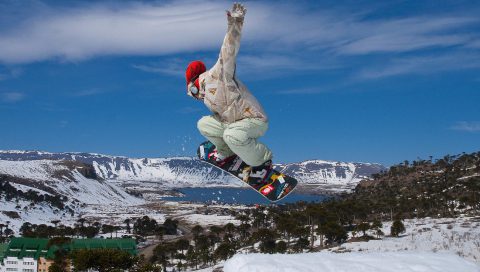 You can access the mouth of the volcano through caterpillar vehicles.
During summer you can perform various activities, horseback riding, mountain biking, trekking through paths filled with waterfalls, streams and stunningly beautiful volcanic formations. There is a very important Convention Center in town that is completely built on wood in its interior.
Caviahue Lake:
This incredible turquoise and horseshoe-shaped lake is located within the ancient caldera called "Hualcupen", occupying an area of more than nine square kilometers.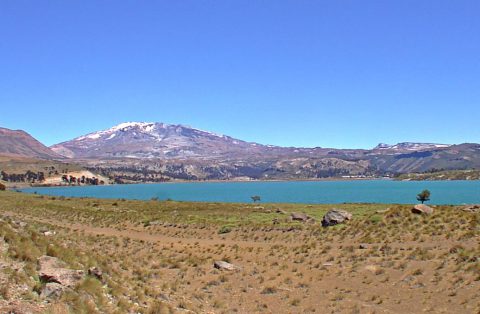 The acidity of the water is the distinguishing characteristic of Caviahue lake and it is unique in Argentina. Its pH of is close to three. The high acidity of the lake's waters is provided by the Agrio River which originates a few metres below the Copahue volcano crater. The lake, which is fed by the Agrio river, has a similar chemical composition. Because of these chemical similarities, many experts consider that its waters have healing properties for diseases related to skin and respiratory system.
The high acidity and amounts of heavy metal ions make life possible only for few living beings. Obviously, those which are able to grow and develop in this type of environment have particular characteristics from the eco-biological point of view.
Copahue
Copahue is the country's largest thermal center. This small, original Patagonian town, nestled in the middle of Andean mountain range at 2030 m s.n.m and NW of Neuquén capital is located on the slopes of Volcano Copahue 2970 m a.s.l. This location, at higher altitude than Caviahue, makes it accessible only in summer, from December to late April.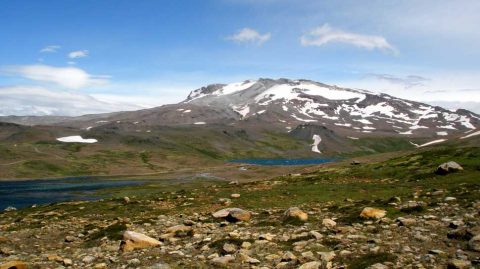 Its great attraction are the hot springs. In Copahue, in the middle of a lunar landscape, the springs occupy 10 hectares.
The ground is cracked and with mud rich in sulphur. The water at boiling point is sulfurous, silicic and ferruginous.
The climate is dry and with a great thermal amplitude, in summer during the day, temperatures can reach 30º C and at night they can drop to 4º C. Another characteristic is the low atmospheric pressure.
The Provincial Authority Termas de Neuquén has a Centro de Balneoterapia in Copahue. It is a great complex with a tourist office, a bank, hair stylist, gym and cafeteria. There are several waters with curative properties, recommended for rheumatism and skin, respiratory, and stress related diseases.
The center is equipped with mud therapy. Drinking waters are available for dyspepsia, anemia, as a laxative, digestive and tonic.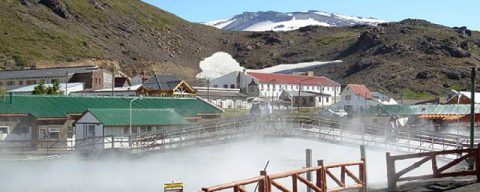 Thermal Resources Lagoons, springs and fumeroles surrounding the balneotherapy Complex building are resources which are used in different treatments. Then, it is important to mention that the thermal waters are classified in the following categories according to international rules: Hypothermal: temperature between 20 and 30°C (Green Lagoon)
Mesothermal: temperature between 30 and 40°C (Chancho Lagoon)
Hyperthermal: temperature above 40°C (Sulphur Lagoon)
Data to consider:
-The Thermal treatments are healthy but also have contraindications. That is why doctors should be consulted if you may suffer heart disease.
-Remember Copahue is 2000 meters high with mountain climate.
-Remember Hot springs contain many minerals that can damage your clothes.
Thermal complex in Copahue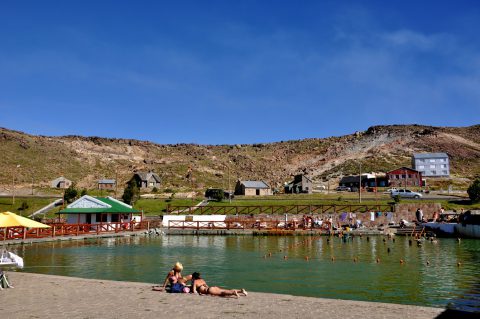 Green Lagoon: It is about 1.20 meters deep, it is composed by sulphur, calcium and iron, and microscopic algae that give it a particular greenish colour. Its temperature varies from 24°C to 30°C. This water is used in spa treatment techniques and dermatology because it has antibacterial, softening and soothing properties.
Algae Lagoon: It is a lagoon where thermophilic algae develop naturally. These algae have antibacterial, softening, anti-congestion, anti-inflammatory and anti-allergic properties.
Pig Lagoon: It is the most famous lagoon of Copahue. It contains a high rate of mineralization. It is greyish with mud at the bottom. This natural lagoon, combines with baths, self application of mud and sun exposure, ending with a shower drinking water. His sulfated waters range in temperatures of 35 ° C.
Sulphur Lagoon: It is hyperthermal. Its average temperature is 85 ° – 90 ° and emanates sulphurous vapors which are used in respiratory treatments and detoxifying.