The Ameghino Dam is an ideal place to spend a relaxing day outdoors. An old dam inside a landscape of rocky crags, green vegetation and quiet  Chubut River waits for you.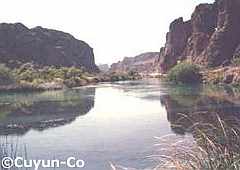 Travel 180 km. (approx.) to the south, first on Route 3 to Trelew, then take Route 25 to the village of Las Chapas.
The rocky crags form a reddish canyon narrowing the Río Chubut. The vast vegetation and the river make it an ideal landscape for a rest and contact with nature. Here you can practice trekking, rafting, trout fishing and enjoy photographic safaris.