Sarmiento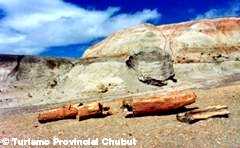 Founded in 1897, this quiet town is placed in the southern center of the Province of Chubut, 145 Km. from Comodoro Rivadavia. Located between Colhué-Huapi and Musters Lakes (suitable spots to practice water sports, sport fishing), its valley is irrigated by Senguer River.
Its main attraction is José Ormachea Petrified Forest.
It is estimated that seventy million years ago there were thick forests, giant reptiles and a damp weather in this region. The petrified tree trunks in the middle of this lunar scenery and the surrounding hills make of this place a must-visit.
You shouldn't miss "Manos Pintadas" (painted hands) either, where you'll find prehistoric art near the bed of the Seco River, evidence of a departed culture.