Copahue and Caviahue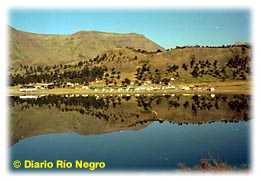 Caviahue is a small locality with a population of 500, located on the north section of the Province of Neuquén, on the shores of Lake Caviahue or Agrio. It is surrounded by hills, pehuenes, waterfalls and the imposing view of the Copahue volcano.
Together with Copahue at only 17 km, they constitute a tourist complex of special characteristics. Its great attraction are the hot springs. In Copahue, in the middle of a lunar landscape, the springs occupy 10 hectares.
The ground is cracked and with mud rich in sulphur. The water at boiling point is sulfurous, silicic and ferruginous.
The climate is dry and with a great thermal amplitude, in summer during the day, temperatures can reach 30º. C and at night they can drop to 4º. C. Another characteristic is the low atmospheric pressure.
The Provincial Authority Termas de Neuquén has a Centro de Balneoterapia in Copahue. It is a great complex with a tourist office, a bank, hair stylist, gym and cafeteria. There are several waters with curative properties, recommended for rheumatism and skin, respiratory, and stress related diseases.
The center is equipped with mud therapy. Drinking waters are available for dyspepsia, anemia, as a laxative, digestive and tonic.
Finally, if you are willing to feel like new again, take your medical history and the specialists of this magical place will advise you on the treatment to follow during your stay. This is another alternative offered by this marvelous Argentine Patagonia.
See Also: Copahue: Heated Streets - Mud Therapy at Copahue Hot Springs