The New Wonder of the World
Iguazu Falls in Argentina, were finally honored as one of the New Seven Natural Wonders of the World, at a party hosted within Iguazu National Park, with the impressive "Devil's Throat " as the background.
The festivities began with fireworks in Puerto Iguazú, on the banks of the river Iguazú.
The main ceremony took place in front of hundreds of tourists, residents of nearby towns and media in general. Also, it was the final concert of the festival "Falls in Concert", directed by Andrea Merenson of the Colon Theatre, and the Oscar winning musician Gustavo Santaolalla, who played movie soundtracks such as "Fantasy," "Titanic" and "The Mission", which by the way was filmed in 1987 at the Iguazu Falls.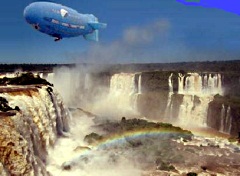 Previously, the governor of the argentine Misiones province, where the Falls are, and the representatives of N7W discovered a bronze plaque of 130 kilos. An identical plaque was uncovered in the Gramadao, a huge forested park near the Brazilian city of Foz de Iguazu.
The Minister of Tourism, Enrique Meyer said that "official recognition" of Iguazu Falls "is a before and after for Argentina" and he hopes soon Iguazú positions itself as "one of the great tourist attractions of South America".
Meanwhile, the president of the foundation "New 7 Wonders" announced that its purpose is to build a Museum of the Seven Wonders of Nature and theme parks in each of these places.
During 2011 the Falls were visited by about 1 million tourists from all over the world.
The Falls were chosen as one of the natural wonders of the world last November 11 along with the Amazon Forest, Ha Long Bay (Vietnam), Jeju Island (South Korea), Komodo National Park (Indonesia ), the Table Mountain (South Africa) and Puerto Princesa (Philippines).
2 hotel nights at each destination with breakfast. Transfers in/out airport-hotel-airport at Ushuaia and El Calafate. Excursion: National Park Tierra del Fuego and End of the...
4 hotel nights with breakfast. Transfers in/out airport-hotel-airport at Bariloche. Excursion Small Circuit. Excursion to Victoria Island and Arrayanes' Wood. Excursion to S.M. Andes via the Seven Lakes. (Optional:...
Transfers in/out. 4 days, 3 nights with breakfast. Excursion Perito Moreno Glacier. Nautical Safari. Excursion All Glaciers. Bilingual (Spanish-English) guides. Taxes.
Departure and arrival transfers in each destination. A two night stay in Iguazú and three in El Calafate with breakfast. Excursions: In El Calafate: visit to...
4 days, 3 hotel nights with breakfast. Taxes. Transfers in/out airport-hotel-airport. City Tour. Tango Show and Dinner in "La Ventana" with transfers.
4 days, 3 hotel nights with breakfast. Optional Air tickets Buenos Aires / Madryn / Buenos Aires. (add from USD 395). Taxes. Transfers in/out airport-hotel-airport at Puerto Madryn....