Valcheta and the Somuncura Plateau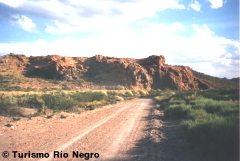 Somuncura is an araucanian word meaning "rock that sounds or speaks". It is a natural protected area and the second largest natural reserve in the country.
It covers a portion of the south of the Province of Río Negro and northern Chubut, of around 13,000 km2. It is a basalt plateau, with hills with maximum heights of 1,900 above sea level, alternating with depressions occupied by temporary lagoons.
The creeks that are produced by the winter snow form small valleys that surround the plateau where populations are settled, hardened by the thermal amplitudes, that in winter can go as low as - 25º. C and in summer climb to more than 35º. C.
There are some 100 families that live off cattle raising and hunting in this rocky desert and low forest, between hills and lagoons where strong winds blow.
This mysterious and impressive geographical feature called the interest and curiosity of professionals and technicians since 1919, and still keeps some secrets in its unique geological, morphological and ecological character.
There are exclusive live communities in land and sweet water. For example, in Arroyo Valcheta, lives a "mojarrita desnuda", which is considered a vulnerable species and is the only autochthonous fish of the region, discovered at the beginning of the century.
Its name refers to the lack of scales in adult specimens.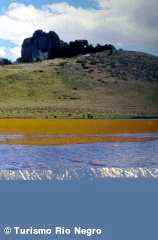 At the same time, the Somuncura Plateau adds a morphological attraction as to the access, since the abrupt lava wall-like formations, along most of its perimeter turn it into a sort of castle or fort.
On the other hand, the town of Valcheta, located in the valley of the Valcheta Creek, is also an interesting option. It is known as the oasis of Río Negro because it sits in the middle of the plateau, presenting a totally different landscape.
The arriving traveler suddenly finds a thick vegetation and alamedas, with fruit and alfalfa plantations of a deep green color. The local population is extremely cordial and visitors are always welcome.
In this town with a population of 3,000, the Fiesta de la Matra takes place at the end of June. Matra is a tapestry knitted in a loom by the Mapuches. Do stop at the Regional Museum of Valcheta where you can see fossilized eggs of a dinosaur.
Undoubtedly, the great attraction of this area is the great Somuncura Plateau. It is the ideal place for those willing to feel the wildest Patagonia, and as we say, the Earth the way it was..
Read also:
Patagonian Landscapes