The half-day excursion to Villavicencio will take you to a typical pre-mountain range location in Mendoza where a traditional hotel "Hotel de Turismo Villavicencio" that has a marked style of the 50's and the most famous mineral-water fountain in Mendoza are found.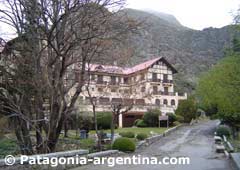 You will leave the city heading towards the North in order to reach Campo Histórico El Plumerillo, passing through the locality of Las Heras. This is where the General San Martin prepared his troops to cross the mountain range and to help Chile attain its independence.
Soon after, going through the National Route 7, you will get to the Villavicencio mineral water bottling plant and the Canota monument.
Thence you will enter a pre-mountain range gorge, where the old hotel is located, with a chapel and several gardens, a beautiful place to enjoy the landscapes and views as well as the unique surrounding environment which happens to be one of the purest in the country.
If the conditions of the roads allow it (there could be ice while in winter), you will continue the ascent until reaching a panoramic view-point without comparison.