Villa La Angostura excursion will show you one of the most charming mountain towns around the lakes. There is either a full-day or a half-day option.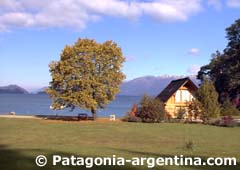 You will leave Bariloche on an Eastbound direction, up to the extreme of Lake Nahuel Huapí where the Limay river origins. At this point, you will start skirting the north margin of the lake, going through a steppe at first, where many Estancias are located. Later, when you get to the Huemul arm, cypresses start to appear, gradually becoming a lush humid forestation. Past the Huemul arm, you will have a pretty view of the Manzano Bay, where a luxurious hotel is located.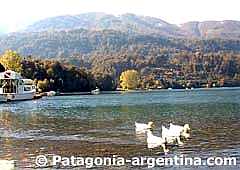 Finally, you will get to Villa La Angostura, situated on the north shore of Lake Nahuel Huapí. Your tour will include a visit to the harbor, El Messidor residence, Selva Triste lagoon and chapel La Asunción.
In case you choose the full-day option, you willmake a stop at Cerro Bayo, which is the ski center of the area, on the way back to Bariloche, only 10 km from Villa La Angostura. The ski center has lift chairs as well as other types of lifts that takes you to the top, from where you can take excellent pictures of the surrounding landscape.