This is one of the most beautiful excursions in Argentina: the Seven Lakes' road.
Nature slowly comes back to life, flowers show up as a miracle that has remained hidden under the snow, the forest wakes up filled with colors and the sound of singing birds… All that beauty is there, waiting for you, framed by a scenic road that joins Villa La Angostura with San Martin de Los Andes.
You can start the Seven Lakes' road either from Bariloche or from San Martin de Los Andes. It goes through all the places situated between Villa La Angostura and San Martin de Los Andes, thus you can also take other starting points for your trip. The one we are going to describe now begins at Villa La Angostura and gives you the chance to visit two national parks: Nahuel Huapi and Lanin. You shouldn't miss this trip, some of the most wonderful lakes and forests in the region and the most secluded places are awaiting you.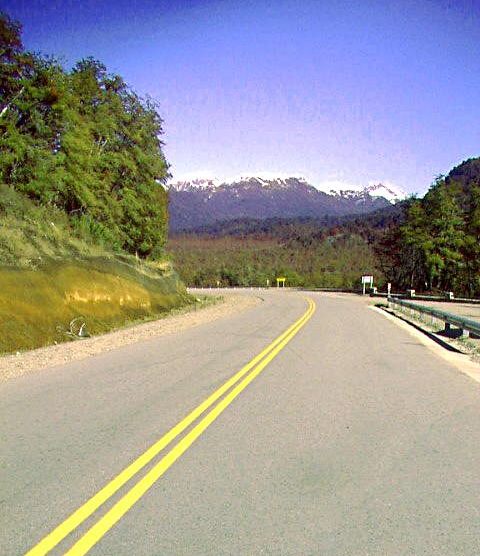 There are 184 km from Bariloche to San Martín de Los Andes. You will need at least one entire day to take this excursion, or better yet, two or three days, if possible. You can find lodging either at Villa La Angostura or San Martin de Los Andes and, during the summer season, hostels and campings function inside the National Park.
The journey
From Villa La Angostura you take national route 231 to Portezuelo. Eleven kilometers later you change to route 234. As you approach the village, the Nahuel Huapi Lake becomes visible, and also two other lakes: the Correntoso (Swift) Lake, ideal for salmon-fishing, and the Espejo (Mirror), which was given this name because of its clear waters, and which has a beautiful panoramic viewpoint and also a camping area with benches and tables where bonfire making is allowed.
The road goes on – this is the most solitary part of the journey – skirting part of the Pichi Traful river, until you get to Traful. The slopes surrounding this path are densely populated with coihue and colihue cane forests. At kilometer 130 you get to the forest ranger's cabin and there is a lateral road that leads to the north arm of Traful Lake. It goes 2 kilometers through a narrow path that ends at the lake's side at the mouth of Pichi Traful river. This is a splendid site to camp.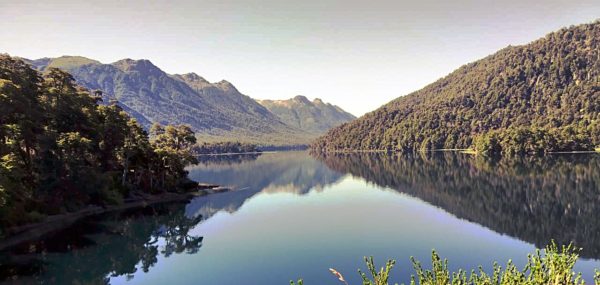 The route goes on, and after crossing the bridge over the river, it goes up a steep slope through the forest. Five kilometers later a small lake, the Escondido (Hidden) Lake, lies to the left of the road. It is worth parking the car here to appreciate the beauty of this area.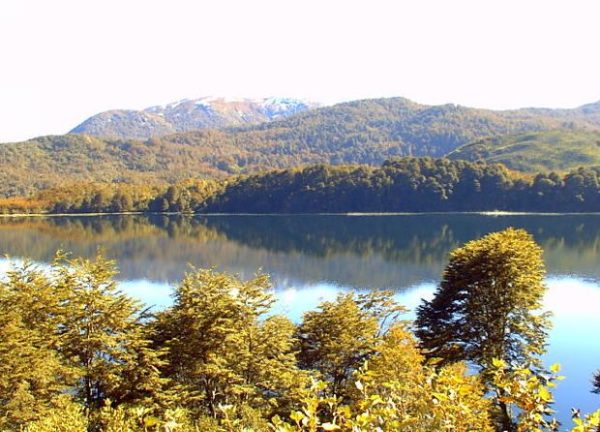 At this point the road goes into the valleys of lakes Villarino and Falkner, separated from one another by a narrow isthmus. These are two of the most beautiful lakes along the trip. The road allows us to see the lake from above, then it goes down along the isthmus and crosses the river by the same name. At this place we find Lake Villarino's Inn, a fishers' inn, which provides varied services according to the season. From this point on there is one km of good places to camp on the Lake Falkner's side.
The road goes through a wide valley where you will find, at kilometer 141, to your left, the breathtaking Vullignanco cascade. There's a parking place here, and it is worth making a stop to admire the place. Shortly afterwards you arrive to National Park Lanin's entrance. It is a wide log arcade which separates both national parks. As far as km 149 the wide valley of Lake Hermoso (Beautiful) opens up in front of the traveller's eyes. A gendarmerie control regulates the cordilleran paths between Traful and Hua Hum.
We continue our journey…
You go on for another two km from the gendarmerie post and get to Lake Hermoso's shore, the most beautiful of this journey's lakes: it is a small lake, surrounded by forest and with a beach that faces west, very sunny and sheltered from the wind. There's a camping site, a storehouse, some vacational houses and a pathway which goes along the southern side of the lake. The road goes on up to Lake Machonico, where the landscape is drier. As you go on toward San Martín de Los Andes the road slowly goes up along Culebra (Snake) Creek. It is worth sticking out your head to look left as you cross the bridge over Hermoso River, to admire the narrow steep gorge through which the creek flows.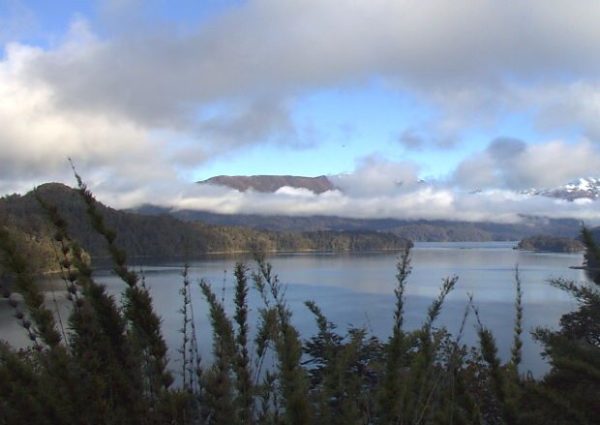 Later on the road goes down the wide Pil Pil river valley, which has been long inhabited by the  mapuche aborigines. A romantic landscape of hills and forest surrounds you.
Close to San Martin de Los Andes, at km 171, there's a detour that takes you to Ski Center Chapelco. Further on another detour on the left leads to summer cottage Quina Quina. Finally, as you draw near the end of our journey, you see Catritre Beach on the left and the beginning of Lake Lacar southern shore, along which you go on until you get to San Martin de Los Andes, through Costanera Avenue.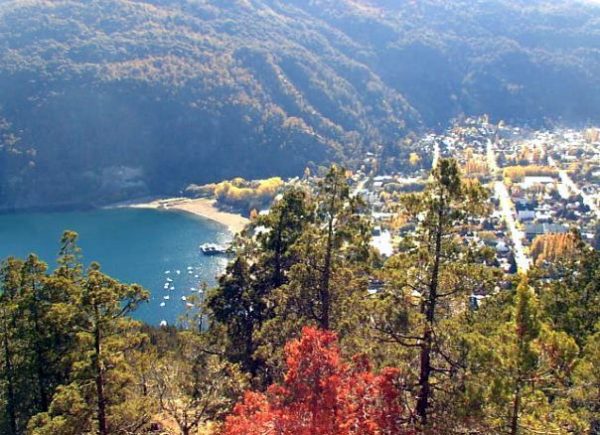 Where to stay on the Seven Lakes' road?
Lodging:
Hosteria Cullen Co: Correntoso Lake, Tel: 02944-494377
Hosteria Lago Villarino: Falkner Lake, route 234. Tel: 02972-425274
Posada Quinen: national route 234, km 65.5. Tel: 02972-425455.
Complejo Lago Espejo Resort: Espejo Lake place. Crossroads of routes 231 and 234. Tel: 02944-494583.
Cabañas de Alicia: Route 7 lakes, near Villa La Angostura. Tel: 02944-494474.
Campsites (paid):
Correntoso: National route 231, left margin.
Espejo Chico Lake: National route 234, right margin.
Campsites (free):
Hermoso Lake: Seven Lakes route,
Falkner Lake: route 234, left margin.
Keep in mind that lodging facilities vary according to the season. It is mandatory to ask in Villa La Angostura or San Martin de los Andes before you start the trip.
Also remember that this is a National Park area, preserve nature, take special precautions when lighting fires, do not throw cigarette butts and whenever in doubt, ask the forest ranger.