To visit the Ruins of St. Ignacio, declared a World Heritage Site is, after the Waterfalls, the most impressive excursion in the Iguazu area.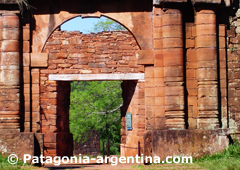 The Jesuit Ruins of San Ignacio Miní have been declared World Heritage Site in 1984 and constitute a true journey to the very beginning of colonization and conquer of the New World.
The Wanda Mines are a deposit of semiprecious stones, which is found 40km from Puerto Iguazú.
During this guided excursion, you can visit the quarry, and see quartz crystal, amethysts, topaz, and agate in their "natural" state. There is a store to buy sculpted stones and jewelry.
Later the excursion continues by route 12, passing by small towns and plantations, until arriving at the Ruins of San Ignacio. This construction dates to the 17 th. century, when the Jesuit missionaries settled the region.
San Ignacio Miní was one of the flagship Jesuit reductions in South America.  The excellent preservation of the Ruins today allows to see how the project of converting the Guarani Indians operated. One can also observe proof of a powerful religious syncretism in the art and science.
The guide explains the construction system, the life and customs of the Guaraní Indians, and how they were Christianized.
This is a trip that lasts all day.