The Safari to the Hidden Fall is a tour that starts at the Brazilian side of the Waterfalls. It can only be done as an organized excursion, aboard specially equipped vehicles.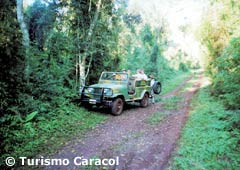 This is an approximately 2 hour long excursion, in which you use the Yacaratiá path.
This trip is made in 4×4 vehicles. There are stops made throughout the trip, the last one being for a 800 mts hike, until a fall with a natural pool is reached. There the vehicles stop and you can swim in the pool during the summer.