In order to preserve the sub-tropical rain forest that surrounds the waterfalls and the waterfalls themselves, two national parks were created: Iguazú National Park, in Argentina and Iguaçu Nacional Park in Brazil.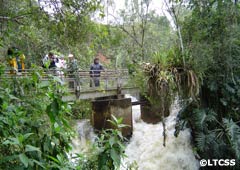 The Argentine park, which is in the north of Misiones Province, was created on the 9 th. of October in 1934 and counts67,000 hectares. In 1984 it was declared an UNESCO World Heritage site.
RECOMENDATIONS FOR VISITING IGUAZÚ NATIONAL PARK
Don't enter with animals.
Don't touch or feed the wild animals.
Don't take soil, plants (or parts of them), animals (live or dead) or any element of the natural environment.
Only throw garbage into the trash cans.
Don't break stalks or flowers.
Use only marked paths.
Respect that the paths are for one-way traffic.
Remember that a lot of animals, especially the cats, are nocturnal animals.
And as always, enjoy the natural beauty leaving behind only footprints, so that the next visitor can enjoy the same experience.
Iguaçu National Park, in Brazil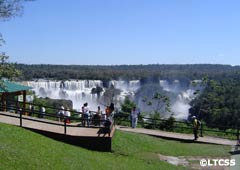 Today, the Iguaçu National Park inBrazil, after going through a process of reforms, has a new system of paths that give a better view of the falls, and feature impressive panoramic views.
Many say that you "live" the falls on the Argentinean side and "see" the falls from Brazil, so both visits are a must indeed.