There are two options in the area of the Perito Moreno Glacier: To sail the Lake Rico, skirting the south wall, impossible to see from a different perspective or navigate the De Los Témpanos Channel, approaching the front of the glacier.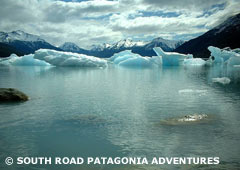 Both allow the observation, with a totally different perspective, of the stunning walls of the glacier and the permanent detachments of blocks of ice, which later become icebergs and float by very close to the boat, tingeing the reflexes of the channels and lakes with that peculiar blue they have had since time immemorial.
The craft, which offers room for up to 70 people, takes a prudential position, close enough to the wall as to be able to cover its whole extension.
Embarking
First option: Bajo de las Sombras Pier, located 6 km from the glacier lookout.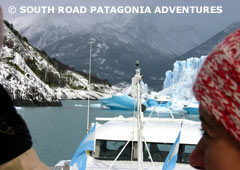 Second option: Perito Moreno port, within walking distance from the footbridges (coastal trekking), or a 10-minute bus ride.
Departures are every hour from 11 am to 4 pm
Duration: 1 hour.
Recommendations:
This activity is suitable for all passengers.
It may be combined with the excursion to the Glacier, although not with the Minitrekking, due to the fact that the latter includes navigation already.
No excursion can beat this one in terms of photography and taping opportunities.