The Santa Cruz Cruise, offers 44 passengers the privilege of  enjoying something truly different on their stay in El Calafate: to share the quest for the "Spirit of the Glaciers".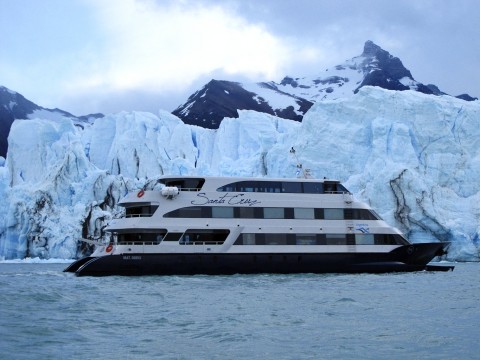 Marpatag (this is the name of the sailing company) offers its passengers the most complete cruise to the inside of the glaciers: three days and two nights on board, all-inclusive, enjoying top-notch activities and premium services.
Day 1: The tour departs from private port La Soledad, Bahía Tranquila, in the area of Puerto Bandera. There, the crew will make the necessary introductions and will provide you with all the information you need about the trip. Sailing starts around 6.30 PM. A short sail to Alemana Bay, on-board entertainment and dinner make up the first day.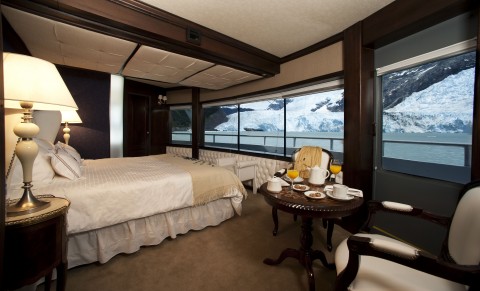 Day 2: On the following day, after breakfast, passengers disembark in the area of Puesto de Vacas for a short walk. Later, navigation continues towards the Spegazzini Glacier, which shows us all its splendor, the sun shining bright over its tall ice walls. There we have lunch. After lunch the ship sets sail towards the massive Upsala Glacier. The sight of the first icebergs indicates its proximity. This glacier is one of the greatest and biggest ones in the National Park; it rises to a height of 7 km (4.35 mi). Afterwards, the vessel cruises along the Seno Mayo, where passengers have dinner and overnight in Toro Bay.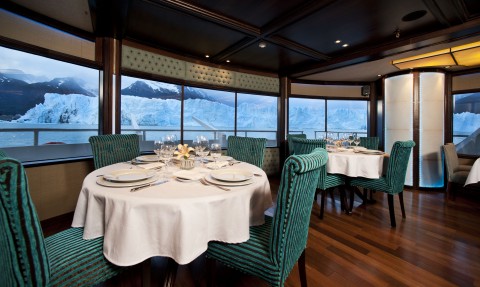 Day 3: After a short sailing passengers disembark for a short walk into the Andean Patagonian forest to a viewpoint from which the Mayo and Negro glaciers are observed. Then, as a Grand Finale, the cruise goes to the Perito Moreno Glacier, through the Iceberg Channel. There, very close to the terminus and to the ice slides, passengers will feel unique  facing the world's most spectacular glacier and its breathtaking views.
After this, passengers disembark in Puesto Vacas and then set sail back to Puerto Bahía Tranquila, at around 4 PM.
Note:
The cruise offers a luxury service, in a three-days / two-nights program including:
Two days of navigation in Lake Argentino, enjoying the sight of the Upsala, Mayo, and Spegazzini glaciers, and of course, the Perito Moreno.
Two nights on board in a double cabin with private bathroom and outdoor view. The ship complies with every safety regulation and is equipped with the comfort the demanding passenger requires.
Full board, including alcohol drinks during meals.
Coffee, tea and non-alcohol drinks provided throughout the trip.
Disembarkation in Seno Mayo and Puesto Vacas.
Activities on board, with an English-speaking guide.
Departure and arrival transfers from and to El Calafate.
Entrance to Los Glaciares National Park.
PRICES FOR PEAK SEASON From November 1st to February 28th:
Deluxe Cabin: Double: U$S 1840 – Single: U$S 2300
Premium Cabin: Double: U$S 2120 – Single: U$S 2640
Grand Suite Cabin: Double: U$S 3120 – Single: U$S 4290