It was 1865, long before Argentina began to show serious intentions of conquering and colonizing the south, when a group of Welsh settled in the lands that today belong to the Province of Chubut.
This story deserves its own chapter.
These settlers were motivated by special reasons. They were neither adventurers searching for a hypothetical City of the Caesares, nor erratic gold seekers driven by the promise of a sudden wealth. Also, they were not scientists striving for fame and new discoveries. Simply put, they were a group of people wishing to protect a lifestyle that had become endangered in their native Wales. And for this purpose, they were in search of a place in the world where they would found a new Welsh nation. They asked for land and respect for their language, religion and traditions. In return, they would hoist the argentine flag and submit themselves to the country's laws.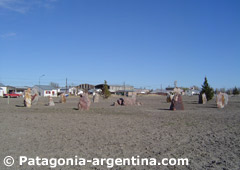 As one of them said:
"I remember those times in Wales, when day after day we would feel the pressure of foreign cultures penetrating our own homes. Our Welsh souls needed independence; to gather and sing at our chapels… It was then that the idea of emigrating started to become strong. The plan was to leave Wales in an organized group, and find a country with virgin lands, one that would enable the arrival of a significant number of people and where we could develop, or in other words, establish ourselves as a Welsh colony, like in New Wales. That was the moment of deciding where in the world this would happen. Patagonia seemed the ideal place: we had good references from an English admiral, plus the argentine government was actively seeking immigrants. And -most important- the place gathered the features we knew were necessary in order to make our dreams come true. So our delegates contacted the local government and a fixed date, July 28, 1865 was the result of these negotiations. After sailing for two months, the Mimosa sailboat anchored at the Gulf Nuevo's waters, and 150 persons got off it. Most of them were families, and were not rich. As pointed by the arrangement, two of the delegates were waiting for us and had built some huts on the beach with some animals (cows, lambs) we were given for a basic survival. At last… We were here!"
So on July 28, 1865, 153 settlers got of the Mimosa sailboat and settled in the Punta Cuevas area, near what today constitutes the city of Puerto Madryn. The tradition says they lived there for a while, inside rudimentary caves built into that small hill's rocks, but we cannot be sure about this. There are approximately nine caves or shelters artificially built there, but the date th
is happened is unknown. It is possible to visit them now.
But one thing is for sure. These settlers soon discovered that the place and the surroundings had a big downside: no sweet (drinkable) water. Few days later and when the situation turned really difficult, a storm that took place left over a big lagoon where at least the animals drank from. And the decision was made: they moved towards River Chubut's valley. In this way their towns foundation crusade began.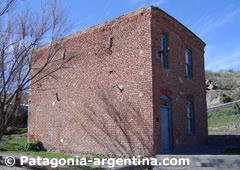 Nowadays, on July 28 one of the biggest celebrations of the Welsh community takes place: The Landing Day. On that day, at all the Welsh chapels alongside the valley they hold ceremonies where tea is served, and Welsh songs and poems are sung and read.
The Welsh are very religious. As their members say, "when an Englishman arrives at a place, the first thing he builds is a store; when an American arrives at a new place, he builds a school. But when a Welsh settles, the very first thing he will do is to build a chapel".
This is absolutely true. The Welsh chapels, with their typical architecture, distinguish all the cities they founded in Chubut. At these chapels, all the projects and actions of the community were discussed by all of their members. This means that the chapels not only served as religious centers but as educational and even judicial ones.
At present it is possible to visit these chapels, following a route that connects them all at both sides of River Chubut.
But life was not easy at the new lands. They had to face many adversities, bad harvests, floods, the lack of a direct way out to the ocean in order to sell their goods… So some of them decided to emigrate to other areas. The population was decreasing and because of this, it became important that more Welsh came from Wales. Some of the settlers went back to Wales in order to convince them. And two more immigrations took place during years 1874 and 1876.
As one of them recalls: "Some of our men traveled back to Wales in order to convince and attract more people. After some months preaching about Patagonia, two groups were conformed: one in Wales and the other in the United States of America, where there were Welsh also. They departed towards Buenos Aires, where they stayed until there was availability in a ship that took them to Chubut. That was in 1874, a very good year for the harvest, a fact that helped to maintain the original enthusiasm."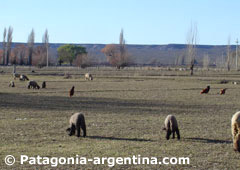 They built channels to overcome the problem of land irrigation, and this in fact is the first artificial irrigation system ever made in Argentina. With this enhancement, the area rapidly grew its wheat production and soon the much sought-after prosperity arrived to the colony, escorted by the development of a railway between the cities of Trelew and Puerto Madryn. The good times had finally come…
Another problem they faced at the beginning were the aborigines, and they had to coexist as well as develop relationships with them.
The surrounding tribes did not attack them, since the human treatment given to the aborigines by the Welsh was quite different from the brutal, cruel one of the argentine militaries during their 'Desert Campaign'.
The aborigines got in contact with the Welsh in December 1865, soon after they arrived. There was a letter sent to Jones by Chief Antonio which explained the different communities that surrounded the Welsh (Mapuches, Pampas and Tehuelches) and stated that they wanted to trade with them. This trade became significant.
And the settlers' memories continue: "We did not trust the aborigines at the very beginning because we were afraid of them. But soon we discovered that we could all live in harmony, and began trading bread and butter in return for meat and goods used to manufacture clothing."
The Welsh settlers chose Patagonia. They contributed to its progress and development and they became argentine, without losing their Celtic roots. And they were able to prove it during year 1902 when Argentina and Chile had a conflict for the Valley 16 de Octubre: when asked for their preferences, the Welsh said: "We have lived under the protection and sovereignty of Argentina; we are loyal to this lands, native for many of us".