IguazĂș Forest
The IguazĂș Forest excursion includes assorted adventure activities which will thrill you. A true Waterfalls experience.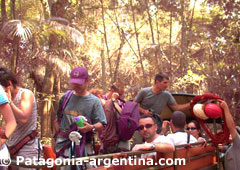 This excursion will take you to a unique spot, located 7 km from the city of Puerto IguazĂș and 15 km from the falls.
You will arrive via light-truck and movi-truck and once you are there, in the middle of the jungle, you will participate in various eco-adventure activities such as canopy walks, rappelling from the trees and the falls, and hiking.
It is a 4 hour excursion with two daily trips, one at 8am and the other at 2pm.
The two most iconic & emblematic Natural Monuments in Argentina, both declared World Heritage Sites, toured in six unforgettable days. The immense glaciers in Patagonia and the spectacular IguazĂș Waterfalls in the north-eastern region of the country, will leave you breathless.