Iguazu Port was born about 1609, when the first Jesuit missionaries were established, which remained in operation for over a century and a half.
At the end of the 19 th. century the first "tourists" visited the falls. One of them was Victoria Aguirre, a lady who donated part of her fortune to construct the paths that lead up towards the cliffs.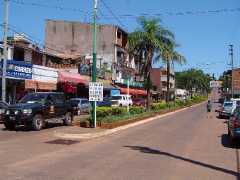 In 1901 the town of Puerto Iguazú was founded, although it was first called Puerto Aguirre. In this year the first path from the town to the waterfalls was constructed, thanks to the money and lands left by Victoria Aguirre.
After its founding, the town grew rapidly. In 1906 the first hotel was constructed, in 1907 the essential services of a school, police station, border control and phone lines were established.
In 1934 the paperwork to create the National Park was started. The inhabitants had to wait until 1940 before it was actually laid out in the form you see today: parks, lookout points, chapel, post office, and all the features that make a city. But the government of Iguazú was actually formed in 1943.
In 1952 the three frontiers checkpoint was established and in 1959 the customs administration arrived.
In 1984 the Iguazú Waterfalls were declared to be a World Heritage site. Finally, in 1985 the bridge that connects Argentina and Brazil was built.