The Guemes monument lies at the foot of San Bernardo hill, on Uruguay Ave., east of the city. Surrounded by a park and the view of the hills behind, it is worth a visit.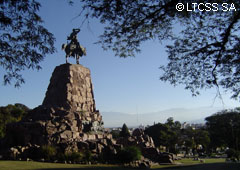 Güemes' figure, made of bronze, sits on a small horse, with the typical traditional characteristics of mountain horses, with strong muscles. Around this sculpture there are friezes that make reference to his military campaign.
The stairs that surround it and the pedestal are made of stones from the hills that surround Salta.
On June, 17th, homage is paid to this hero next to this monument and the central act is a parade of the 'gaucho' organizations from Salta and from all over the country.