Touring the 7 Lakes Road, an icon of the Andean Patagonia, on a good bicycle is a wonderful experience. Our collaborator, Sergio Berman, recalls his journey and invites us to take it too.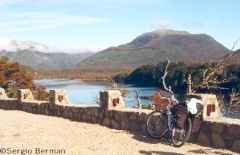 The landscapes of Patagonia dazzle those who travel. There are many ways to admire them and perhaps the most beautiful is to tour with a bike the Road of the Seven Lakes, which links San Martin de los Andes with Villa La Angostura in 112 kilometers .
The crossing invites you to visit seven of the most beautiful water mirrors of the South of Argentina.
After sleeping in San Martin de los Andes, we made our way to Lake Lácar, located next to the city. The next step requires using the small plate and the large pinion as they follow some steep climbs. Under the light of the moon and in the company of Arroyo Partido we spent the first night.
The second day dawned with a totally celestial sky, huge, we got on the bikes and, after taking advantage of some descents in which we reached 60 kilometers / hour, we made a brief but necessary break in the "Arroyo Hermoso" (beautiful stream). Afterwards, we continued our way.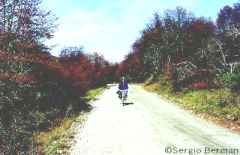 At kilometer 32 we are greeted by the green waters of the Machónico Lake and, a little further on, Lake  Hermoso shows. Later on, still gaping at such a beauty overdose, we found two more spectacular lakes, one facing another: the Falkner and the Villarino. There the Lanín National Park ends and the Nahuel Huapi opens its doors, where there is a panoramic point with an amazing view.
Land below, forest on the sides, mountains above. From there, Lake Escondido (means hidden)  already greeted us, although we had to still advance almost a kilometer more to bathe in its pure and virgin waters. The next one is the Pichi Traful Lake, which we got induced to by a descent with curves and countercurves. There we spent the second night.
The morning drizzle encouraged us to pack our luggage in record time and to pedal 21 kilometers quickly until we reached the detour to Villa Traful. An impressive panoramic view of the Correntoso Lake, an enormous water mirror that can be seen from three different lookout points. At the side of the road there is a path that leads to the Chico Mirror, which is not part of the circuit but should be. We moved forward along this road, had lunch on the coast and prepared to meet the last lake, the father of all: Lake Espejo (Mirror). In summer, this place brings together many water sports enthusiasts such as skiing, wakeboarding and windsurfing.
Only 10 kilometers remained to arrive at Villa La Angostura. As a last activity we visited the port, Bahía Manzano and the Cerro Bayo , which are unmissable.