The train of the End of the World
The Train of the End of the World is one of the biggest Ushuaia's attractions. It's true name is "Ferrocarril Austral Fueguino" which, along with the jail, constitutes an icon of the island.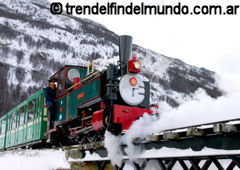 This railway's history is, as almost everything in this city, linked to the prisoners of the mythical jail.
An elegant and antique formation of heated wagons, with wide windows and pulled by a steam locomotive, will take you along a 8 Km. long tour departing from the End of World Station up to the Tierra del Fuego National Park Station. The round trip total time is 1 hour 40 minutes, approximate.
Most of the way you will go bordering River Pipo. This will allow you to see a reconstruction of a yámana settlement (aborigines of the region), while you enter a dense and beautiful wood of cohiues and lengas, meaning that you are already inside the National Park.
4 days, 3 hotel nights with breakfast. Taxes. Transfers in/out airport-hotel-airport at Puerto Madryn. Excursion to Península de Valdés. Excursion Punta Tombo (penguins colony)
Transfers in/out. 4 days, 3 nights with breakfast. Excursion Perito Moreno Glacier. Nautical Safari. Excursion Estancia Cristina Classic (summer) or Rivers of Ice (winter). Bilingual (Spanish-English) guides. Taxes.