Far West Bandits
The story of Butch Cassidy and Sundance Kid in Patagonia could well have been taken out from a Hollywood Western production of the 50's. However, it was not, though much talk was made about the adventures of these two legendary outlaws all along the lawless western deserts of North America. Until one day they had to run away towards new lands. In the Argentine south, they found an ideal environment to repeat their far west epic stories.  Large extensions of no man's land, pioneers' lands, soils suitable for stock farming, scarce police surveillance, the threat of native "savages", strong winds, dust in the air…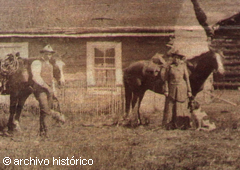 …But the story should be traced back further into the past and to the north.  Americans Robert LeRoy Parker and Harry Alonzo Longabaugh met in 1897. They were known as Butch Cassidy and Sundance Kid, and were part of the fearsome gang Wild Bunch that robbed banks and trains.  Harassed by the sleuths of the Pinkerton Detective agency that watched over them like hawks, and also due to the great number of posters offering really generous rewards to those who turned them in "dead or alive", the bandits had to find a way out.  They ran to the east and in New York, together with Ethel Place (Etta), Sundance's girlfriend, they embarked on the Herminius vessel, bound to South America. Months later, they arrived in Buenos Aires, where they stayed in a hotel for some time until they left for Patagonia. It was 1902.
In Buenos Aires, they might have received the help of Ralph and George Newbery, United States Honorary Vice Consuls. They encouraged the settlement of an English-speaking colony in Patagonia. Butch, Sundance and Etta settled down in a ranch in Cholila, province of Chubut. They organized themselves with Butch's aid, as he was the more skilful for work on the land and horse riding.  By 1905, they owned 900 cows, 1500 sheep, and 40 horses. The 6,000-hectare (14,826 acres) property included a large stud and four stables.
The outlaws had to use false identities in order to avoid trouble with justice. In this way, Butch Cassidy pretended to be Santiago Ryan, while Sundance Kid was known in town as Harry Place, Etta's fake brother.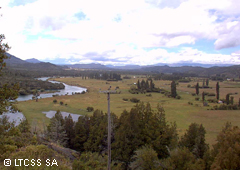 Soon after they had settled down, the North American fugitives were regarded with great prestige and respect among neighboring stockbreeders, due to the speed at which their financial activity progressed, the good wages they paid to their workers, and their commitment with the town's social life.  Even Etta became a distinguished and respected personality due to her good command of talking, riding, and shooting skills. Always carrying a gun in her belt, always ready to firmly confront thieves swarming around the area.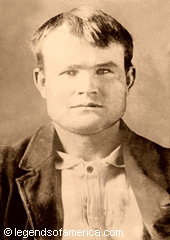 While the outsiders adapted themselves to their new life in Patagonia, the Pinkerton Agency was hard on their heels. A photograph of the Wild Bunch had reached their hands in Buenos Aires, which made the investigation easier. When they learned about the supposed whereabouts of the bandits, they sent agent Frank Dimaio to arrest them; however, heavy rainfalls prevented him from traveling along the poor paths that then connected the different regions to the capital.
On February 14, 1905, a robbery in the amount of U$S100,000 took place in the Banco de Londres y Tarapacá, inRío Gallegos (Santa Cruz).  Despite the fact that they were not identified during the raid (and the views of the historians that attempted to reconstruct this story disagree on this point), versions increasingly pointed at Cassidy and Kid.
The Governor of Chubut, Jorge Lezama, issued an arrest warrant, but just before it could be executed, Sheriff Edward Humphreys, an Argentine-Welsh friend of the Americans', warned them about it. In this way, the fugitives hurried their departure.  They sold the property in Cholila to the company Cochamó of Chile, and crossed the Andes in search for a safer refuge.
At some point of the long escape, Etta abandoned the two men and returned to San Francisco. Whether Sundance accompanied her or not is unknown. There are many rumors and versions involving the two bandits in robberies in Chile and Argentina, but it was not until 1908 that the story started to come to light, whenCassidy and Kid were working for mining companies in the Central Bolivian Andes. 
There, the bandits allegedly conducted their last raid: the robbery of a mine shipment. They fled north, but on November 6, 1908, they were apparently caught and riddled with bullets by the Bolivian Army in the town of San Vicente.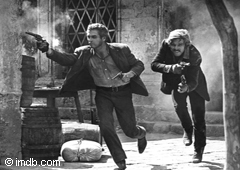 In the Symposium on the life of the outlaws in Patagonia, held in Trevelín in 1999, Argentine historian Marcelo Gavirati and American researchers Anne Meadows and Daniel Buck agreed on the hypothesis that this was the end of the bandits, since there are no correspondence records after that November 6, 1908, although there is evidence of letters received from them on previous dates.
Notwithstanding the evidence found by researchers, Butch Cassidy and Sundance Kid will always remain in these lands as a legend of the Patagonian western.
4 days, 3 hotel nights with breakfast. Taxes. Transfers in/out airport-hotel-airport at Puerto Madryn. Excursion to Península de Valdés. Excursion Punta Tombo (penguins colony)
Transfers in/out. 4 days, 3 nights with breakfast. Excursion Perito Moreno Glacier. Nautical Safari. Excursion Estancia Cristina Classic (summer) or Rivers of Ice (winter). Bilingual (Spanish-English) guides. Taxes.
4 hotel nights with breakfast. Transfers in/out airport-hotel-airport at Bariloche. Excursion Small Circuit. Excursion to Victoria Island and Arrayanes' Wood. Excursion to S.M. Andes via the Seven Lakes.