Ice Rivers (ex All Glaciers)
All Glaciers is a lacustrine excursion that starts at Puerto Bandera, 50 km. away El Calafate, to navigate through the heart of Glaciers National Park.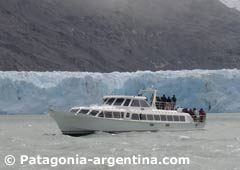 Throughout the tour you will be able to observe an incredible scenery and a variety of shapes and colors, in the enormous blocks of ice detaching from the majestic Upsala Glacier, the biggest one on the National Park. After you pass the front wall of this glacier the navigation continues to Puerto Las Vacas in the Onelli Bay.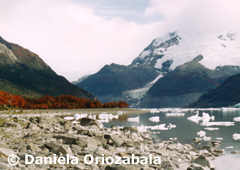 The return trip is done by entering the channel of the Spegazzini Glacier where you will find yourself in the middle of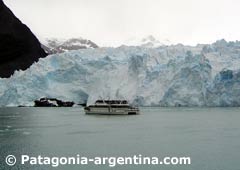 the mountain of ice with the presence of the Seco and Spegazzini glaciers, with walls at record heights among the visited glaciers reaching in some sectors 125 meters.
This excursion may be reversed due climatic conditions.
After this fascinating trip you will not be able to forget Patagonia. Fortunately, your films and photos will remind you that it was not a dream.
4 days, 3 hotel nights with breakfast. Taxes. Transfers in/out airport-hotel-airport at Puerto Madryn. Excursion to Península de Valdés. Excursion Punta Tombo (penguins colony)
Transfers in/out. 4 days, 3 nights with breakfast. Excursion Perito Moreno Glacier. Nautical Safari. Excursion Estancia Cristina Classic (summer) or Rivers of Ice (winter). Bilingual (Spanish-English) guides. Taxes.
4 hotel nights with breakfast. Transfers in/out airport-hotel-airport at Bariloche. Excursion Small Circuit. Excursion to Victoria Island and Arrayanes' Wood. Excursion to S.M. Andes via the Seven Lakes.