Train to the Clouds is the most amazing tourist train in the world. Live the experience ofclimb to 4200 meters high aboard this marvel of engineering.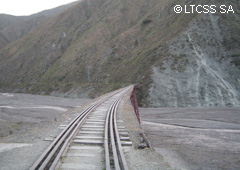 The train -with 10 fully renovated wagons, which carry 500 passengers- leaves from General Belgrano Station in the city of Salta, going through the Valle de la Lerma and the Quebrada del Toro, to later arrive in the viaduct La Polvorilla, in the thresholds of the magnificent Puna.
 The Tren de las Nubes (Train to the Clouds) is a referent in the tourist iconography of the Northwest of Argentina, highly
appreciated by the international market.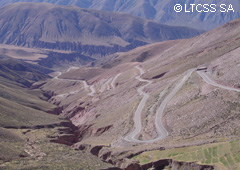 The train is the fourth highest in the world, after those in China, Peru and Bolivia, reaching 4200 meters (13,780 ft) in its highest point, at the end of the railway line. Despite this fact, the Train to the Clouds' typical characteristic is that it does not run using the rack system. This engineering feat, a work by the North-American engineer Richard Fontaine Maury (at the request of the then President Hipólito Yrigoyen), established the principle of wheel-to-road (not cogwheel) adherence to the railway lines, articulated in a spiraling and zigzag ascending logic.
The tour lasts around 15 hours, passing through a total of 21 tunnels, 29 bridges, 13 viaducts, 9 sheds, and 2 loops. At an average speed of 35 km/h (21 mph), the train runs on the railway lines of the legendary branch line C14, which reaches the port of Antofagasta, Chile.
The ten wagons have two bilingual tour guides on each of them, and other services like a dining car, a bar, and an infirmary.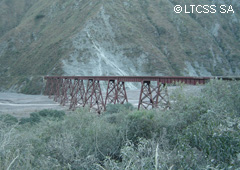 Along its 217 km (135 mi) route, the Train to the Clouds has enabled the reactivation of the shy economies of the towns it runs through, which have taken advantage of the tourist resource and set up sale stands of craftworks, clothes, and varied regional products.
Contact the official site for information on days and times.