San Bernardo Convent is one of the oldest buildings of the city of Salta. It was built during the 16th century.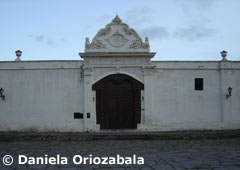 It was initially built as an hermitage for St. Bernardo, Salta's first patron saint, and it must have been destroyed by an earthquake since every record from the beginnings of the 17th century has been lost. But the records show that it was in 1726 that the new building was funded to function as a hospital.
As years went by, it was subject to many reforms and it was later designated to other uses until 1846 when it was gifted to the Carmelite sisters who turned the old hermitage and the hospital into the Convent of St. Bernard that currently stands.
A new front door was installed, it was made of oak wood and it was carved by the Indians in 1762 and it has a great value due to the fact that the carving is one of the greatest artistic expressions by the local aborigines.
It is recommended to watch closely the salonic columns that hold the lintel that also has two arches joined in the center by a drawing of leaves and a card with Christ's initials.
It was declared National Historic Monument in 1941.