We propose you a virtual tour of Salta's streets, parks and churches. It is worth it; Salta is the most important city within Argentina's northwestern tourist circuit.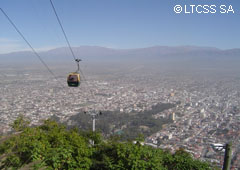 This location provides a warm climate, with pleasant temperatures and much sun throughout the year.
One of the most outstanding features is the Hispanic colonial architecture. In its growth, hasn't lost its profile of a low city, houses of a single floor, or two at the most, narrow streets many of them paved, and the horizon always trimmed by hills. Museums, churches and monuments populate its historical blocks.
A brief tour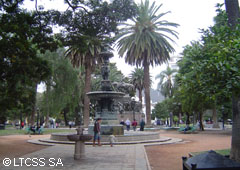 It is essential to begin touring the city from the 9 of Julio square, the place where Hernando de Lerma founded it, in 1582. In within, there is a bower that was formerly the place for dates between youngsters, today is the meeting place chosen by the students. The arcades located in the surrounding streets are a characteristic seal of the city.
On the sideway the Cathedral is located, where the images of the Virgin of the Miracle and where the rest of General Güemes, hero of Independence, are resting.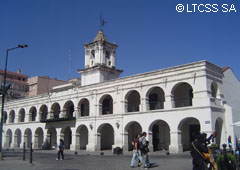 Opposing the Cathedral is placed the Historical Town hall, and today it hosts the Northern Historical Museum. Heading through Caseros Street the Church of San Francisco can be reached, with its brick colored walls and a very characteristic tower. Beyond this point, in the same direction, the Convent of San Bernardo is placed.
In order to complete the perspective of this city it is imperative visiting one colonial mansion at least: Uriburu's, Arias Rengel's, Leguizamón´s or Hernandez's. Many of them are nowadays museums.
Another place to be visited, not only for what it offers on sale but because of its architectonic quality, is the Artisan Market (autochthonous and native handcrafts).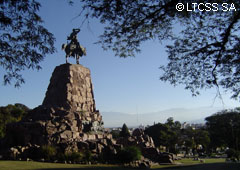 At night the city fills with movement, activities and music.
The Train Station area is one of the favorite places chosen by the salteños and tourists to share drinks in any of the many bars, to have dinner in its restaurants or just walking by the streets. In order to complete the Salta experience and being able to say that one has really been here it is necessary to go, at least, to one of the numerous folkloric shows. The most famous ones are 'Valderrama Disco', 'The Mill Country House' and 'The Old Station'.
A little beyond, passing downtown, near the base of the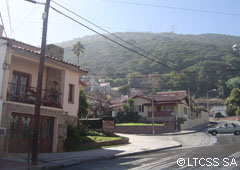 San Bernardo Hill, is located the Monument dedicated to Güemes.
Finalizing , no one can leave Salta without having contemplated the beautiful sight from the San Bernardo Hill, quite better if it's seen during dusk and the evening, offering a spectacle of lights of the city from the heights.