La Angostura is the place where the lakes Aluminé and Moquehue meet. A beautiful ride near the Villa, that you can continue until the border crossing point Icalma.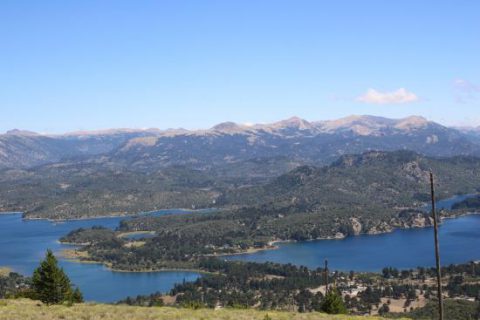 The tour starts leaving the Villa westbound; 4 Km away is the "Las Lagrimitas" autocamping.  If you are traveling by car you can continue a bit more, but around 8km from the village you have to leave your vehicle and to continue by foot until reaching Angostura. This is where the Aluminé Lake and the Lago Moquehue merge in a 20m wide by 500m long strait.
An environment of lagoons, estuaries of rivers and streams, trails through the millennial forest and peaceful beaches of volcanic sand will invite you to relax and enjoy.
You may continue this circuit around the lake. The total distance is 30km. There is a provincial plant nursery in which there are species meant to recover the woods devastated by fires, you will also see goats grazing during the "veranada", the seasonal migration, and you will be able to get to the border with Chile, at Paso Icalma.
Afterwards, you will witness how the vegetation of the Andean forest becomes increasingly abundant when approaching the West.